We Came, We Saw, We Conquered
Tracey Flower
April 24, 2017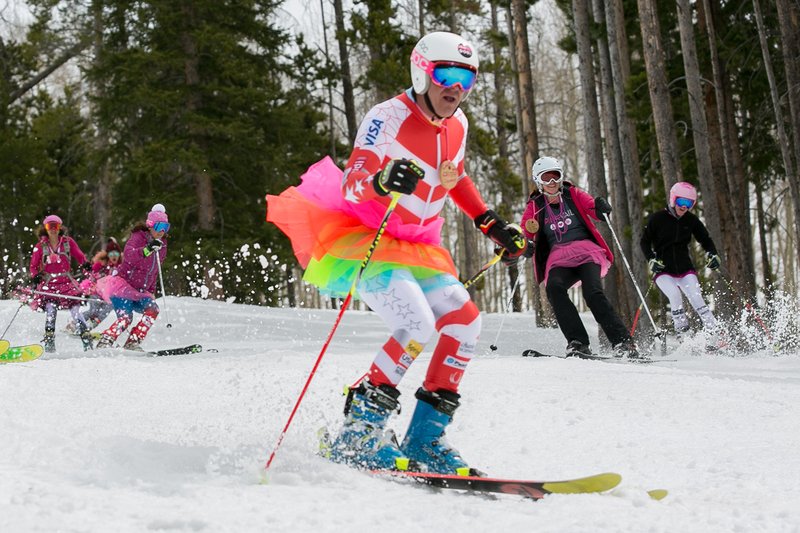 By Tracey Flower | First published to the Weekly, April 24, 2017
As the winter 2016-17 ski season wraps up, we're presented with an opportunity to reflect. In this case, we're holding up a mirror to a few folks for whom the season marked something remarkable, whether it was a new experience, a bucket-list adventure, a big accomplishment or all of the above. These individuals, all Vail Valley locals, show us the possibilities that exist in this great, big, wild world, whether the potential lies alongside a quiet creek, on another continent or, as is so often the case, within oneself.
BILL SCHANE | PINK VAIL ROCK STAR
"Pink Vail is an attitude," said Bill Schane, who this year participated in his third Pink Vail as captain of team Don't Go it Alone.
Pink Vail is the annual fundraising event benefiting Shaw Regional Cancer Center's Spirit of Survival, a comprehensive wellness program for cancer patients, and Schane and his team raised more than $43,000 this year, earning them top fundraising honors.
That attitude he talks about is one of fun and positivity. Schane, who has mesothelioma and is patient himself at Shaw, said Pink Vail is also about supporting one another in this community. This, he added, is the whole point of team Don't Go it Alone.
"You've got to keep having fun," said Schane in an interview at Shaw before he received a round of chemotherapy. "There are days that are really hard, that really stink for everyone and it's like, when is this going to stop? With Pink Vail, it's all about celebrating the community that helps each other through those days. And that's the deal, right? It's about all of us doing our part."
Schane was diagnosed in early 2014 and said he didn't start to think about himself as a survivor until he came to Shaw.
"I thought I was going to die, I really did," he said.
But between his team of physicians, nurses, therapists and other experts at Shaw and his trainers at Minturn Fitness Center, where he works out regularly, Schane, an athlete whose passion prior to his diagnosis was ski racing, has been able to shift how he looks at his disease.
"One day, I decided I'm an athlete and I'm going to treat this like an injury," he said. "And that's the moment that I started thinking differently about my life. Rather than thinking, 'I'm going to die,' I started thinking, 'I'm going to live every day like it really matters.'"
While Pink Vail is a lot of fun, it's important to remember survivorship is about much more than skiing and pink tutus, Schane said. It's about what everyone's going through on the days when they're not out celebrating.
Bill Schane's signature Pink Vail look originally belonged to Lindsey Vonn — minus the tutu, which he got from his daughter. He won the speed suit in an auction at a fundraiser a few years ago. The padding had been removed from one of the legs to make room for Vonn's knee brace after a racing injury, which Schane said reminds and inspires him to conquer the challenges of his illness in the same way Vonn conquered of her injury.
"When you go to Pink Vail, everything's fun and kind of out in front, but survivorship starts here," said Schane before his chemo appointment. "By all rights, with the disease I have, we're a year past where everything should have ended. I think the survivorship program is part of why I'm still here.
"I'm 100 percent enabled by survivorship."