Colorectal Care at Vail Health
Call (970) 479-5036 to schedule a telehealth or in-person appointment in Vail.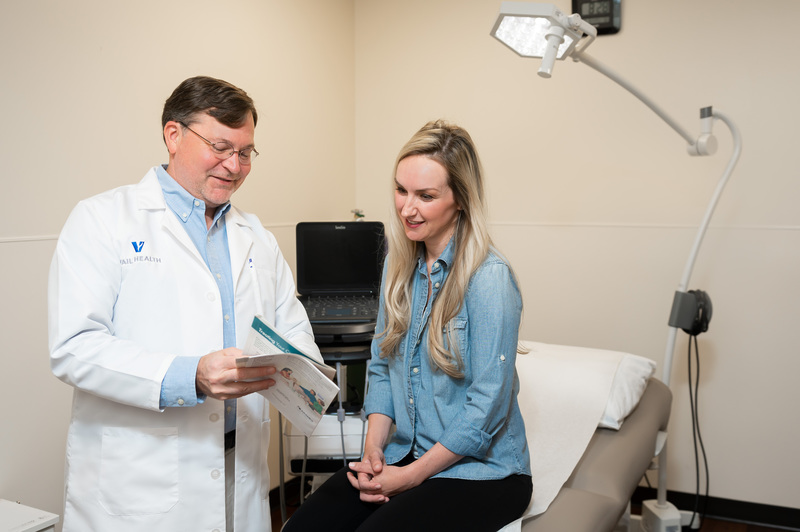 Vail Health provides the highest standard of care for colorectal conditions, which affect the lower gastrointestinal tract, colon and rectum. With compassionate, highly experienced providers and the most advanced robotic surgery tools available, including the
da Vinci Xi Surgical System
, Vail Health offers excellence in colorectal care.
Collaboration among experts increases the level of colorectal services offered within the Vail Health health care system, which includes
Colorado Mountain Medical,
Shaw Cancer Center
and
Howard Head Sports Medicine
, among others. From the onset of a colorectal condition, providers communicate seamlessly with each other and with patients to create an individualized treatment and recovery plan. For colorectal patients, this team-based approach allows for a streamlined experience that spans treatment, pain management and follow-up care, including physical therapy.
Colorectal Conditions and Procedures
Vail Health's colorectal care team treats a variety of conditions and performs colorectal procedures including the following:
Colorectal Conditions
Colon polyps, large or complicated
Colon cancer
Diverticulitis

Acute diverticulitis
Chronic relapsing diverticulitis
Complicated diverticulitis

Parastomal Hernia Repair
Colorectal Procedures
Colectomy (Right, Transverse, Left and Sigmoid)
Low Anterior Resection (Rectal Resection)
Colostomy
Ileostomy
Lysis of Adhesions for Bowel Obstruction
Small Bowel Resection
Appendectomy
What Is Colorectal Robotic Surgery?
Colorectal
robotic surgery
is a minimally invasive surgery technique that uses advancements in robotics to achieve many beneficial surgical outcomes including better options for pain management and a faster recovery time. In colorectal robotic surgery, the surgeon performs the surgery by guiding instruments from a console that delivers highly magnified, 3D high-definition views of the surgical area. Using this technology, the surgeon is able to move the instruments with fine-tuned precision and a greater range of motion than the human hand.
Vail Health's operating suite is equipped with the
da Vinci Xi Surgical System
for colorectal robotic surgery. Colorectal conditions that require surgery are often good candidates for robotic surgery due to its advantages over traditional and laparoscopic surgery for this technically challenging area of the body.
Benefits of Colorectal Robotic Surgery
The benefits of colorectal robotic surgery compared to traditional and laparoscopic surgery include:
Faster recovery
Less time spent in the hospital
Quicker return to activities and work
Reduced chance of infection
Smaller surgical incision
Minimally invasive techniques
Smaller surgical incisions
More options for pain control
Decreased need for opioid prescriptions
Colorectal Surgery: What to Expect
Meet the Providers