VVMC Partners with Local Colleges to Offer Surgical Technology Degree
Emily Tamberino
November 29, 2016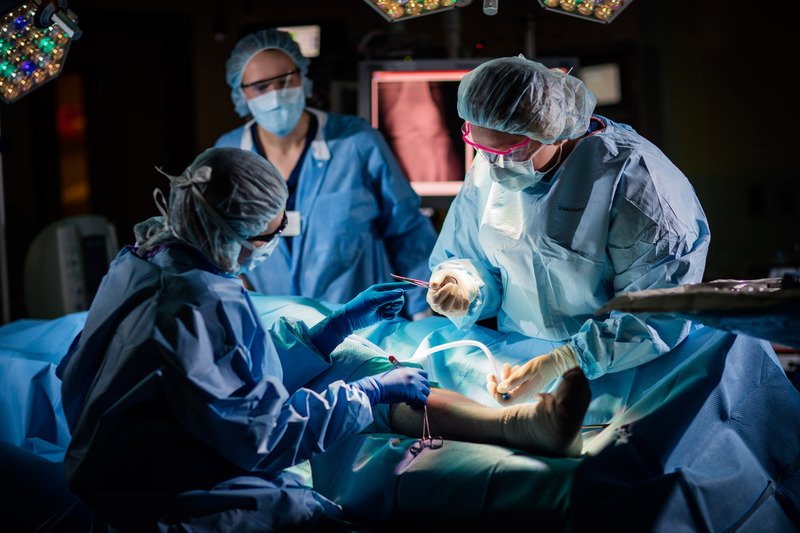 VAIL, CO— Surgical technology is rapidly becoming one of the best healthcare support jobs in the nation, and now, thanks to a partnership among Vail Valley Medical Center, Colorado Mountain College and Front Range Community College, locals have the opportunity to pursue a two-year Associate of Applied Science degree in the field, right here in Eagle County.
Vail Valley Medical Center (VVMC)—which performed more than 6,700 surgeries in 2015 in their hospital operating rooms and at Vail Valley Surgery Center in Vail and Edwards—intends to train VVMC's existing sterile processing staff, as well as anyone within the mountain communities, to specialize in surgical technology in preparation for a health care career in the region.
"If we can educate locals who have already made Eagle County their home, we have a better chance at attracting and retaining employees who understand the unique challenges and opportunities of living in the high country," explains VVMC's President and CEO Doris Kirchner. "For the past eight years, I have been personally committed to finding opportunities for local residents and students to pursue and attain careers in healthcare that keep them in our community. I'm so pleased that VVMC and Colorado Mountain College have collaborated to create this excellent program."
The Bureau of Labor Statistics (BLS) projected surgical technology will grow 15 percent from 2014 to 2024, more than double the average rate for all other occupations. In addition, the BLS reports the median annual salary for surgical techs in 2015 was $44,330.
Eddie Skinner is a co-lead surgical technologist at VVMC and one of the future course instructors. He says, "I love what I do because I get to use my brain—I'm constantly thinking, anticipating. It's a fun job, and it's rewarding. It makes me feel good when patients are healing as they should. I like knowing that my knowledge and skills are helping others."
Surgical technicians play integral roles in the operating room. They prepare the patient and operating room for surgeries, and they pass sterilized equipment and tools to the surgeons during surgery. At the bedside, they may assist the surgical team by holding organs in place, and once surgery is completed, they may help dress the wound and transfer the patient to the recovery room. With world-renowned orthopaedics and some of the best general surgeons in Colorado performing a variety of operations at the Vail and Edwards surgery centers, Vail Valley Medical Center's surgical technicians gain invaluable experience and assist patients directly in their care.
"Working with some of the world's most renowned orthopaedic surgeons gives our surgical techs an incredible opportunity to see some of the hardest cases," says Skinner. "These surgeons are performing procedures that haven't been done in other places, and as surgical techs, we get to see techniques that will be used around the world."
When Vail Valley Medical Center approached Colorado Mountain College about partnering to offer the program, they also saw the opportunity it would create for the community.
"Colorado Mountain College is thrilled to add this specialized program to our suite of allied health courses," says CMC Vice President for the Vail Valley Campus in Edwards, Dr. Kathryn Regjo. "Working with VVMC allows us to combine our curriculum with the hospital's resources to offer a comprehensive, hands-on experience in a highly valued career field."
Colorado Mountain College also offers certificates and degrees in nursing, nurse aide, medical assisting, billing and coding and phlebotomy. The surgical technology degree is already offered at Front Range Community College (FRCC), and Colorado Mountain College saw that the fastest way to offer it within CMC's own footprint was to partner with FRCC's existing program.
The surgical technology program is a two-year degree. In the first year, students are required to take human anatomy, microbiology, medical terminology and human growth/development, among other courses already available at every CMC campus or online. In the second year, students will focus their studies on the core curriculum of surgical technology, including clinical lab and robust internship opportunities, all taken either online or in Eagle County. They will engage in coursework with experts like Skinner at the Vail Valley Surgery Center in Edwards. Classes for the second year of the program are expected to be available as early as fall 2017 so that students who begin their program in January 2017, or have transfer credits, will be able to take second-year courses as soon as fall 2017. Upon completion of the program, students will be eligible to sit for the Certified Surgical Technician Exam, offered through the National Board of Surgical Technology and Surgical Assistants.
The courses in the program are highly affordable, as is the model at Colorado Mountain College. In addition, a small pool of scholarship monies is available for students enrolling in winter 2017. Students considering enrolling in fall 2017 may apply for scholarships as of November 2016, which may help cover tuition, books, and fees. For more information on the pathway to an associate degree in surgical technology, please contact Mike Trujillo at CMC at (970) 569-2908.
About Vail Valley Medical Center | www.vvmc.com
Founded in 1965, VVMC has grown into one of the world's most advanced mountain healthcare systems, providing 24/7 emergency care, Olympic-quality sports medicine, evidence-based research, modern cancer care and extensive cardiology services. An independent, nonprofit medical center, VVMC keeps nearly 900 jobs and resources local, better serving our community and visitors. Providing superior health services with compassion and exceptional outcomes, VVMC offers low infection rates, free community services and top-rated patient satisfaction scores.
About Colorado Mountain College| www.coloradomtn.edu
Colorado Mountain College is a public local-district college that grants degrees and certificates through the bachelor's level in both general and highly specialized disciplines. Thanks to its unique financing structure and open-access mission, CMC operates 11 campus locations in rural mountain resort areas, as well as via distance learning, to serve the educational needs of a population spread across 12,000 square miles of the picturesque central Colorado Rocky Mountains. Each year, close to 20,000 students enroll at the college.
The Aspen Institute's College Excellence Program has recognized Colorado Mountain College as among the country's top 13 percent of colleges offering associate degrees, for exceptional student performance and outcomes. In 2013, 2014 and 2015, the U.S. Department of Education ranked Colorado Mountain College among the country's most affordable public colleges offering bachelor's degrees.
Colorado Mountain College has been offering classes since 1967, and is celebrating its 50th anniversary in 2016-17.