Vail's Hospital Becomes More Energy Efficient
December 12, 2016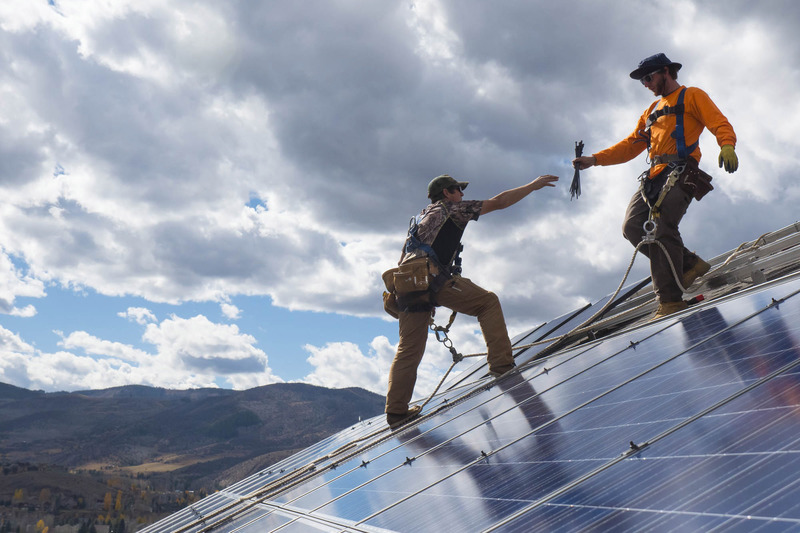 VAIL, CO—Vail Valley Medical Center (VVMC) has always cared for the community's health, and now, it's taking steps to care for our environment as well.
In an effort to become more energy efficient, the hospital installed solar voltaic systems at the Edwards Campus this fall. The solar energy offsets about 8 percent of electricity.
"We must all be stewards of our environment," explained the hospital's President and CEO Doris Kirchner. "While Vail Valley Medical Center comprises a large footprint in the Valley, we are concerned with making as little impact on our natural surroundings as possible."
VVMC is taking additional steps through its Master Facility Plan, which began in August 2015. Since the hospital in Vail is over 50 years old, much of its infrastructure is due for modernization. To help identify areas for energy efficiency, VVMC contracted an engineering firm to perform an audit of its Vail campus, as well as its facilities across Eagle County.
The report pointed out several areas of improvement, rating the hospital in the 10-12th percentile. By 2020, the hospital intends to reach the 50th percentile, at the very least, said Darryl Flores, senior director of facilities.
The biggest issue was the chilling, or air handling, system. Due to the age of all the units, the machines ran 24/7 and used a lot of energy.
Since installing four new, top-of-the-line, energy efficient air handlers that only operate when needed, VVMC has reduced its energy expenditure by 13 to 18 percent. "That's a big number when you're talking about a hospital," Flores said.
As VVMC consumes less energy, Holy Cross Energy, a co-op, will need to purchase less from Xcel Energy, which is good for the community at large, Flores said.
In addition to energy savings, the new air handler results in greater patient comfort. Before, the cooling system chilled entire sections of the hospital. Now, patients can modulate the temperature in their own, private rooms, within an approximately five-degree bandwidth.
"We're doing what's right for the environment and what's right for our patients, guests and employees," Kirchner said.
In addition to the upgrade on the air handlers, the hospital also added LED lighting and solar voltaic systems to specific buildings, and will continue to install more.
New exterior LED lights at the Edwards Medical Campus and Eagle Healthcare Center operate on motion sensors at night. "A lot of times, the parking lots are empty," said Flores, explaining how using traditional exterior lights, which remain on constantly, use excess energy. "These LEDs dim to 50 percent if they don't sense movement within five minutes."
So, when patrons drive up to the buildings, the LEDs completely illuminate the area, but when no one triggers the lights, they just produce an ambient glow.
The next step for LED installation will take place indoors: The facilities team will replace fluorescents with LEDs in hallways and rooms so the lights will fully turn on only when they sense motion. When people exit a room, the lights will dim or go out, saving a large amount of energy.
"All of those controls will be as efficient as possible," Flores said.
Part of the Master Facility Plan, which extends through 2020, involves adding even more square footage to the medical building in Vail, and now that staff know their baseline energy usage, they can accurately measure, and improve, their energy efficiency.
"The equipment we're putting in is going to be much more energy efficient," Flores said. "We're trying to lower our numbers as much as possible."
That means continually assessing energy consumption, researching new technology, making educated decisions, upgrading whenever possible and, in general, acting as a role model for the community.
"We care about energy efficiency," said Kirchner, "and we're willing to do what it takes to achieve a healthier community, a cleaner environment and greater efficiencies."
ABOUT VAIL VALLEY MEDICAL CENTER | www.vvmc.com
Founded in 1965, VVMC has grown into one of the world's most advanced mountain healthcare systems, providing 24/7 emergency care, Olympic-quality sports medicine, evidence-based research, modern cancer care and extensive cardiology services. An independent, nonprofit medical center, VVMC keeps nearly 900 jobs and resources local, better serving our community and visitors. Providing superior health services with compassion and exceptional outcomes, VVMC offers low infection rates, free community services and top-rated patient satisfaction scores.