Vail Valley Medical Center unveils $68M west wing, changes name
John LaConte
August 23, 2017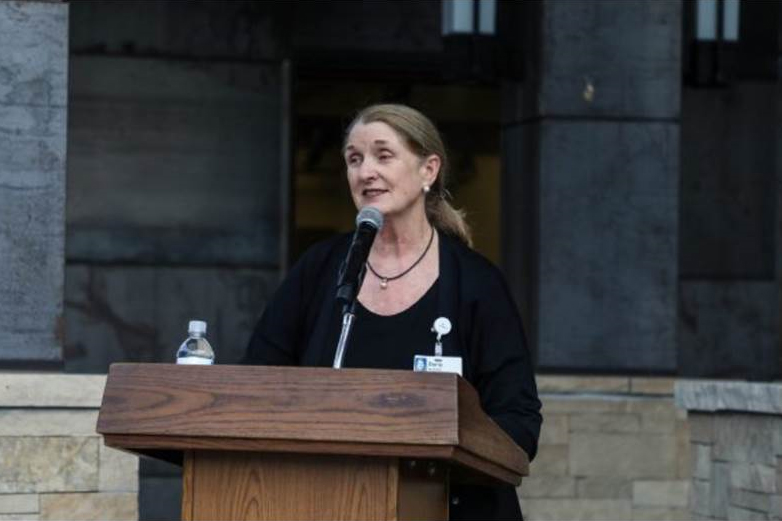 This article was first published by John LaConte in the Vail Daily on August 23, 2017.

VAIL — Vail Health CEO Doris Kirchner approached the podium on crutches.

Tasked with speaking about Vail Valley Medical Center's transition from a clinic, to a full-service hospital, to a locally operated nonprofit that has 965 employees and locations in nine towns, Kirchner addressed hundreds Tuesday as not only a spokesperson, but as a patient.

"The hospital has always been the heart of our system, but at the same time, we've expanded across communities," Kirchner said. "In order to recognize that and connect all of our locations, we are now known as Vail Health."

In addition to unveiling the new name, the gathering was in honor of the completion of the hospital's new west wing, a $68 million expansion that marks a halfway point in the organization's master plan. Construction has taken place over the past two years, and through that time, the medical center was able to operate without closing off any services.

Included in the west wing expansion is a cardiac catheterization and electrophysiology lab, where cardiologists can see and repair the arteries and chambers of the heart; a new intensive care unit with five new rooms for acutely ill patients who are unstable, in critical condition or needing very intensive nursing care; a new patient care unit with five new private rooms for sick, injured and recovering patients to stay under hospital care for short or extended time periods; an expanded surgical services suite with a new pre-operative and post-operative recovery wing; and expanded, state-of-the-art space for Howard Head Sports Medicine.

HOUSE THAT orthopedics BUILT

Also part of the expansion was a new, 24,000 square-foot fourth floor for The Steadman Clinic. Kirchner was able to see the space first hand as a patient, receiving a total knee replacement three weeks ago from Dr. Raymond Kim.

Kim was himself an addition to the clinic made possible by the Vail Health expansion. Before the addition of the fourth floor, the Steadman Clinic was operating out of the building's third floor, which was originally designed for two surgeons. It housed seven.

"We were at capacity for space to recruit doctors," said Steadman Clinic Chief Operating Officer Kelly Adair. "Not just doctors, they're researchers, they're inventors, they're the top talented physicians in orthopedics."

The fourth floor was completed by late December, allowing The Steadman Clinic to immediately hire more surgeons.

"As result they were able to work with recruiting to have Dr. Kim come in February," Kirchner said. "From my standpoint, I knew I needed a total knee. We have many wonderful orthopedic surgeons here, and any one of them could have done it. I chose Dr. Kim."

With services including the Shaw Cancer Center, 24/7 Level III trauma center and emergency department, Level II nursery and family birth center, internal medicine, cardiology, endocrinology, on-site imaging/radiology and laboratory and more, Kirchner recognizes that experiences similar to her own knee surgery funded much of the growth.

"It's because of orthopedics that we have those kinds of dollars, that we can put back into the community," Kirchner said.

EAST WING NEXT

Also addressing hundreds on Tuesday, Vail Health board chair Mike Shannon invited the community to return to the site of the Vail hospital this fall for the demolition of the original building that has served patients since the 1960s.

Shannon mentioned Dr. Jack Eck in his comments, one of the original Vail doctors who spent a quarter of a century in that space.

Cognizant of the play on words, Shannon said Jack Eck's longtime office space would receive the jack-hammer this fall.

"We'll invite you all to a jack-hammer demolition party of the 1965 hospital. We think it will be in late November or early December," Shannon said. "For those of you who remember, it looks like a bad Howard Johnson's, a little A-frame."

That 38,000-square-foot building, which has been serving patients for more than 50 years, will be replaced by a 500,000-square-foot building.

"It will be the most significant building — at over a $200 million investment going forward — in this community, in all our better health," Shannon said. "So we're really, really fortunate. That will be the east wing."

The east wing will include a new state-of-the-art, 24/7 emergency department; a relocated helipad on the medical center campus with direct access to the hospital; increased parking capacity; a new main entrance off South Frontage Road; a new pharmacy; and a new imaging/radiology department.

"I would have never have been able to dream that we would have what we have today," Kirchner said.