Vail Health Implements Nurse Residency Program
Emily Tamberino
February 20, 2019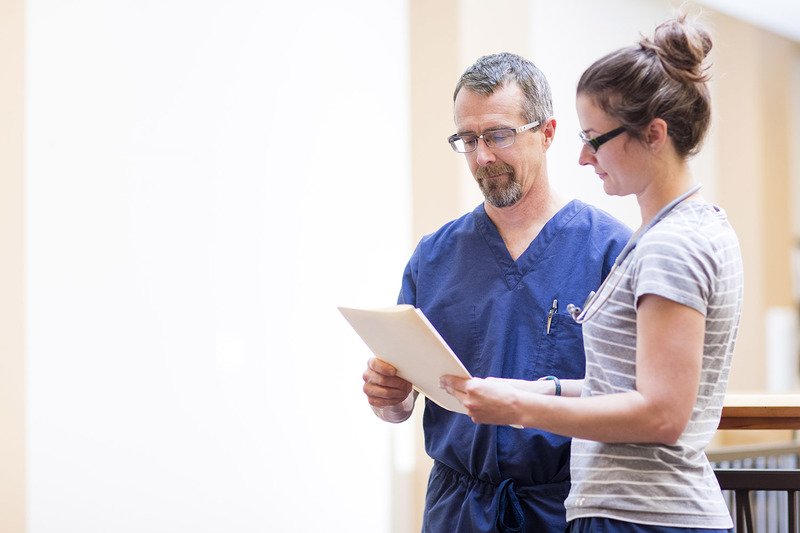 VAIL, CO —Vail Health has always welcomed nursing school graduates, many of whom have become some of the most skilled and longstanding nurses on staff. Now, a new program called Transition to Practice is being implemented across the health care system to educate, train and mentor nurses in an effort to ensure their success. The first cohort of nurse graduates will begin their journey at Vail Health in February.

"Nurses are integral to the patient-centered care we provide," explains Vail Health Chief Nursing Officer Sheila Sherman, who spearheaded the Transition to Practice program. "They are the eyes, ears, hands and heart of health care."

Yet, a nursing shortage is evidenced across the country, including right here in Eagle County. The National Council of State Boards of Nursing conducted one of the largest multistate research studies on the entry of new nurse graduates into the workforce, and the related astronomical turnover. The research highlighted the importance of developing national, standardized programs that are aligned with regulatory requirements for newly graduated nurses transitioning to practice. The outcome of this extensive research created an evidence-based Transition to Practice model, which Vail Health has used to build upon and improve its existing nursing graduate program.

"Nursing skill development programs like Transition to Practice close the gap between education and clinical practice," explains Vail Health President and CEO Will Cook. "There is tremendous value in supporting nurse graduates, and our community can appreciate knowing Vail Health's nurses are receiving a robust introductory experience to caring for our patients."

Programs like Vail Health's have proven to foster retention of new graduate nurses by creating a support system for success. Studies show that new graduate nurses in hospital-based transition programs experience fewer errors, higher overall competency ratings and increased patient satisfaction scores. Many of the programs are only 3-5 months, but Vail Health's Transition to Practice includes a year's worth of instruction, training and mentoring. Nurses will receive clinical orientation at the bedside with designated program instructors, as well as classroom instruction on important topics, including patient-centered care, conflict management, quality and evidence-based practice. Instructors will receive leadership training, and mentors will be available throughout the year. In addition, the nurses will do rotations at The Medical Center of Aurora for additional experience in a variety of health care disciplines.

"This program supports the growth of well-qualified nurses and improves their job satisfaction," says Sherman. "It helps us develop the kind of nurses Vail Health's patients and caregivers expect and deserve."

The program also serves as a recruitment tool for Vail Health. The American Association of Colleges of Nurses reports the local and national nursing shortage is "expected to intensify as Baby Boomers age and the need for health care grows." 53% of the nursing workforce is over 50 years old, indicating a growing need for a new generation of caregivers. Colorado is one of fourteen states that projects a nursing job growth rate of 20% or more in the coming years. Vail Health has cultivated close relationships with nursing schools statewide, including Colorado Mountain College, and will continue to recruit locally, encouraging students to stay in their community. Over the years, Eagle County natives have chosen to pursue a nursing career, but some were forced to take jobs elsewhere or commute. The Transition to Practice program supports the community by providing opportunities for budding nurses to pursue their passion, close to home.

Amy Lavigne has been a nurse at Vail Health for over 19 years. As the Transition to Practice program coordinator, she believes, "Nursing isn't just a profession; it's a calling. By creating a program that supports new nurse graduates, we are developing confident and competent caregivers for our community and visitors."

There will be two cohorts per year, creating multiple opportunities for nurses to gain professional experience in a dynamic setting.

###

About Vail Health
Vail Health is a nonprofit community health care system with 12 locations across Eagle and Summit counties. Vail Health offers a 56-bed hospital, 24/7 emergency care, helipad, urgent care clinics, cancer care, breast centers, cardiovascular services, surgery, childbirth, physical therapy, internal medicine, endocrinology and more. Locally operated and governed by a volunteer board of directors, Vail Health invested $20 million back into the community last year. Through the years, give-back dollars have benefited charity care; events and outreach efforts, including health fairs, high school physicals, blood drives and free speaker series; programs like ThinkFirst and Camp 911; and financially supporting groups like Starting Hearts, Mind Springs Health, Castle Peak Senior Care, HomeCare & Hospice of the Valley, Mountain Family Health, Steadman Philippon Research Institute, Vail-Summit Orthopaedic Foundation, Eagle County Schools and EFEC. For more information, visit www.vailhealth.org.