Turkey and Sweet Potato Chili
October 18, 2019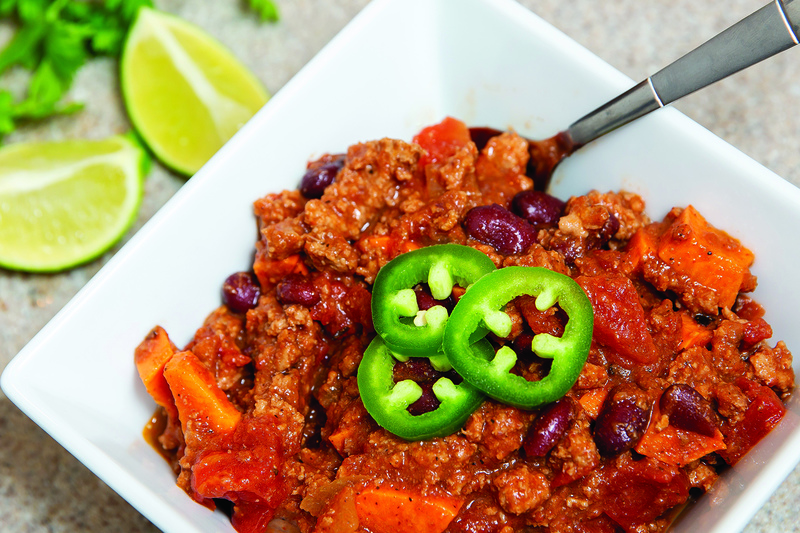 Serves 4

This simple and savory dish can be eaten by itself, as it provides a balanced mix of carbohydrates, protein and fats. Each portion provides two servings of vegetables — a food group many Americans are lacking in their diets.

Ingredients:
• 1 tbsp olive oil, for cooking
• 1 lb lean ground turkey
• 28 ounces canned fireroasted tomatoes
• 15 ounces canned red kidney beans, drained and rinsed
• 1 medium sweet potato, peeled and diced into cubes
• 2 cups chicken broth
• 1 tbsp chili powder
• 1 tsp ground cumin
• ¼ tsp cayenne pepper
• ¼ tsp garlic powder
• ¼ tsp onion powder
• Salt and pepper to taste
• Cilantro, avocado and lime wedges for topping (optional)

Directions:
1. Heat oil in a saucepan on medium-high heat. Once hot, add ground turkey and heat until brown and cooked through, around 10 minutes.
2. Add tomatoes, sweet potatoes, kidney beans, broth and seasonings.
3. Turn up the heat and bring chili to a boil.
4. Reduce heat to low and simmer 10-15 minutes, or until sweet potatoes are tender.
5. Enjoy with optional toppings: cilantro, avocado and lime.

Expert tips:
Time-saver: Make extra for delicious leftovers or freeze for future, speedy meals. Keep for up to 3-4 days in the refrigerator or 4-6 months in the freezer. Low-sodium: Omit salt and opt for "no salt added" and "low sodium" canned goods and chicken broth.

____________________________________________________________________

Learn More

The mission of Vail Health's Food & Nutrition department is to improve patients' lives through quality nutritional care and expert education. We provide our in-patients with wholesome, nourishing and well-balanced meals that enhance their treatment and recovery. In addition, our goal is to educate patients on nutrition and health to help them make good decisions and maintain a healthy lifestyle.