Top 5 Dog-Friendly Trails In Eagle County
traci macnamara
September 28, 2018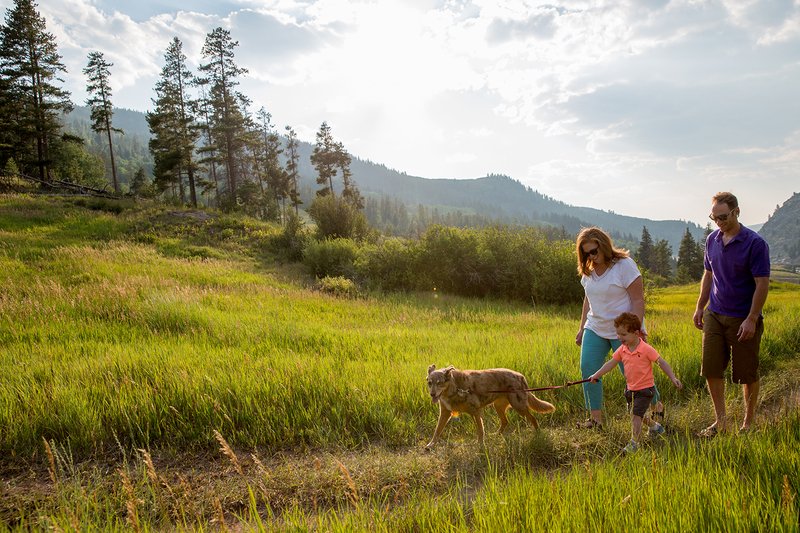 This article was written by Traci Macnamara and printed in Vail Health Magazine, Exercise Edition.

The mountains are a playground not only for people but also for their best friends. Dogs are faithful companions, and no less so when it comes to outdoor exercise. Studies show that dogs are powerful motivators to get their owners out of the house and into the great outdoors. Any dog owner knows the excited patter of paws or the eager stare that signals it's time to lace up the sneakers, grab a leash and pet waste bag, and head outside.

Dogs descended from wolves, so it's no wonder they love being outside where they can sniff, socialize and burn some energy.They are also pack animals, so they especially enjoy adventuring with their owners. Researchers at Michigan State University found that dog owners are more likely to fit in 150 minutes of walking per week than non-dog owners. Another study showed that older people are more likely to take regular walks if they have a furry companion to take with them. Plus, families with dogs tend to be more physically active.

Eagle County boasts a variety of dog-friendly trails that allow canine companions to fulfill their instincts while giving their owners the opportunity to get some exercise as well. So grab Fido, and get out on these five dog-friendly trails in Eagle County.

-1- VAIL'S NORTH TRAIL SYSTEM
Escape with your pup to Vail's North Trail System to avoid the heavy hiking and biking traffic found on some of Vail's other better-known trails. The trails extend from West Vail to Vail proper along the north side of the I-70 corridor with terrain that varies from wide trail to singletrack meandering through aspen groves and dense pine forest. Key trail sections include Cortina Lane to Buffehr Creek, Buffehr Creek to Red Sandstone, Red Sandstone to Son of Middle Creek and Trapper's Run. Trail sections are moderate in difficulty and range in length from .7 miles to approximately 4 miles. Stop by the off-leash Stephens Park in West Vail before or after hiking to give your dog some extra playtime.

-2- MINTURN'S MEADOW MOUNTAIN
For those who like to gain significant elevation, hiking Minturn's Meadow Mountain to the line shack is a good choice. After a good uphill climb, you and your pooch will be rewarded with unobstructed views of jagged Gore Range peaks cutting into the Colorado sky. From the public parking area located near the I-70 interchange, the trail begins to climb up Meadow Mountain over moderately steep terrain that traverses wide-open meadows and travels through aspen and spruce-fir forests. Stay straight instead of going left at one obvious trail split, and keep climbing until you reach the line shack, a small abandoned cabin, after approximately 4.5 miles and 2,000 feet of elevation gain.

-3- THE EAGLEVAIL TRAIL SYSTEM
The community of EagleVail's dog-friendly trail system can be accessed from the trailhead and parking area at the top of Eagle Drive, where a flat and mild singletrack trail begins and then splits into a few options after approximately .75 miles. Hike along a nicely shaded, lowelevation trail that continues west through EagleVail above the golf course, or challenge yourselves by hiking up Stone Creek Trail (also known as Paulie's Plunge), which connects to the trails of Beaver Creek after 2.3 miles from the trailhead. If hiking the Stone Creek Trail in the summer, stay alert for mountain bikers who often descend this trail from Beaver Creek. Explore a loop that winds through cool aspen groves, and embrace the wonder of this system that includes both well-known and less frequently traveled trails.

-4- THE EAGLE RIVER PRESERVE IN EDWARDS
Located just west of The Gashouse Restaurant in Edwards, the Eagle River Preserve is a 72-acre community open space with short loop-style trails that are mild enough for dogs and owners of all ages. In the summer season, the Eagle River Preserve comes alive with bright-blooming wildflowers, a variety of native grasses swaying in the breeze and the relaxing sounds of the Eagle River, which borders the space to the north. Pet waste stations are conveniently located at all entrances, and an off-leash dog run within the Eagle River Preserve gives dogs the space to roam freely.

-5- EAGLE'S HERNAGE GULCH TRAIL
Eagle's trail system has become wildly popular for mountain bikers, but the Hernage Gulch Trail remains one of the few pedestrian only trails where hikers with dogs can wander without worrying about the crowds. The trailhead is located at a green gate mid-way up Eagle Ranch's Hernage Creek Road, where you'll begin by hiking up a wide gravel path. Be on the lookout for a sharp left turn onto the singletrack that ascends along Hernage Creek through dense vegetation, cottonwood trees and aspen stands. Continue hiking upward through scenic meadows scattered with rabbit brush, juniper and sage for approximately three miles before the trail begins to disappear. Continue exploring — or turn around here and take in the view before happily hiking back down.