Snack Smarter
November 21, 2016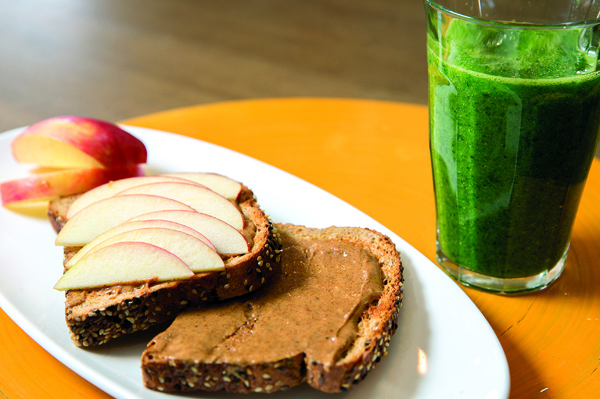 Just as preparation is the key to a fantastic first day on the mountain - six weeks of ski conditioning classes in the rearview and freshly waxed and tuned sticks make for a lovely inaugural day, for instance - foresight is key to making healthy eating choices day in and day out.
"Plan your food for the day ahead of time. Don't let yourself get so desperate that you end up getting cookies and candy bars out of a vending machine," says Dr. Dennis Lipton, an internal medicine specialist at Vail Valley Medical Center.
That might mean slipping a Ziploc bag of homemade trail mix in your jacket pocket before heading out for a few runs, like Dr. Lipton does, or tossing an apple or a whole-food bar in your work bag before leaving the house in the morning.
1. PREVENT THE BINGE
Dr. Lipton says it's actually best not to snack between meals, but if you're someone who can't go a few hours without feeling peckish, it's important to plan ahead and be prepared with healthy food. He prefers to individualize patients' eating plans based on their lives and what's realistic.
"For example, I know people who are not able to eat much of anything all day because of work or time constraints," he says. "By the time they get home at night, they are so ravenously hungry that they will eat just about anything. They lose self-control and overeat the wrong kinds of food. Eating small meals five to six times per day might help to prevent such binge-like episodes."
While there's no proof from a medical standpoint that eating multiple small meals rather than three bigger meals helps people eat less calories and lose weight, that strategy might work well for some folks, Dr. Lipton says.
"The most important thing is what you are eating, so anything that helps someone stick to a healthier diet is beneficial," he says.
As most of us know, skipping meals and eating less than three meals a day may contribute to overeating and unhealthy choices, says Katie Mazzia, a registered dietitian nutritionist at Vail Valley Medical Center. "It's really important to customize a healthy eating plan for patients based on their food preferences, daily routine, and activity and nutrition goals," she says.
The most important consideration is the type of snack(s) between meals and that it doesn't add excess "empty" calories, therefore contributing to weight gain, Mazzia says.
"The goal of any meal pattern is nutrient-dense foods defined as foods that have a lot of vitamins, minerals, fiber, lean protein and healthy fats," she says.
A good example is wheat toast with almond butter and apple slices. Add some extra nutrients with a green smoothie.
2. ASK YOURSELF THREE QUESTIONS
Sometimes we snack because we want something crunchy or sweet or we are tired or thirsty, Mazzia says. In light of that, before you reach for a snack, ask yourself three questions:
1. Am I hungry?
2. Am I thirsty?
3. How many hours until my next meal?
Sometimes people mistake thirst for hunger, so it's important to check in with yourself.
"If you only have an hour before the next meal, choose quickly digested snacks, like fruit, yogurt or veggies," Mazzia says. "If it's longer, add a lean protein and whole grain with 3 grams of fiber or more per serving." And no, that chocolate-coated fiber bar doesn't count.
"Vegetables, whole fruits or dried, unsweetened fruits and yogurts are great choices," she says. Read labels for portion sizes and stick to them - that means not eating directly out of the bag or box.
3. SNACK BASED ON YOUR ACTIVITY
Consider planning your snacks based on what your day looks like. If you need a little something before a morning run, for instance, consider fruit or cereal, something with quick-acting carbohydrates.
"Trail running, you need 25 to 40 grams of carbohydrates per hour," Mazzia says. "It's a high aerobic activity that's going to require carbohydrate supplementation after an hour."
For someone who plans to spend a morning skiing, Mazzia recommends something with a little more "staying power," that's also portable and convenient, she says. Perhaps a Lara Bar or something similar that's made from dried nuts and fruits. "Or choose a few whole-wheat Fig Newtons or half a peanut butter sandwich - those are good pocket snacks."
Eagle County-based private chef Allana Smith of FOODsmith makes her own peanut butter bars. As a professional chef, there is no culinary challenges she can't overcome. But as a mother of four, she's a fan of creating quick, creative snacks. Made with the nutritional powerhouse avocado, guacamole eaten on fresh endive instead of fried tortilla chips makes a healthy snack. So does a yogurt-based curry dip served with sweet potato and beet chips. And if you have a little more time for prep, make hummus using edamame and mint, and serve it with a variety of fresh, crunchy veggies.
If you're looking for something to munch on that doesn't provide many calories, don't be afraid of popcorn - just leave off the melted butter. Spice it up a little with Japanese furikake (a sesame-seaweed savory blend) or togarashi (a sesame-chile blend).
4. SURVIVING THE BEFORE-DINNER STRETCH
It's common to be hungry right when you get home for work, as this may be the longest stretch of day without food, Mazzia says. Rather than reaching for a bag of chips and a Costco-sized tub of hummus, consider chopping up an assortment of fresh vegetables and fruit on the weekend and keeping them in the fridge to snack on while you're preparing dinner.
If you have children, you're likely used to the never-ending snack requests. Snacks are a good way to tide kids over until the next meal, Mazzia says. Just be sure to keep the portion size in check so they don't ruin their appetite. Her recommendations include a small smoothie (6 oz. milk or milk alternative with 1/4 cup frozen fruit), whole grain crackers, a snack box of raisins, a handful of baby carrots, a tablespoon of nut butter, a hard-boiled egg or a mozzarella cheese stick.
Ask your children to sit down to eat their snack, and turn off the computer or television screen before giving them the food.
"It's better for kids to realize why they're eating and when they're satisfied so they develop the best habits," she says.
5. FOODsmith RECIPES
Kale Ginger Smoothie
-4 leaves of kale, including stems
-1 Bartlett pear, cored and cut into quarters
-1 1/2" fresh ginger root, unpeeled, sliced 1/4" thick cucumber, unpeeled, sliced 1/4" thick
-1 banana, peeled
-1 cup water
-Combine all ingredients in blender and process until smooth. Add more water if you want a looser consistency.
-Pour into two glasses and serve.
Edamame Mint Hummus -1 1/2 cups shelled and blanched edamame
-1/2 cup baby peas, blanched
-1 tablespoon tahini
-1/2-1 ounce mint leaves (pick off of stem)
-Zest and juice from 2 lemons
-2 tablespoons extra virgin olive oil
-Salt and pepper to taste
-Combine all ingredients in food processor until smooth.
Curry Yogurt Dip
Note: Dip will continue to get "hotter" overnight.
-2 cups plain non-fat Greek yogurt
-1 tablespoon curry powder or 2 teaspoons red curry paste
-Zest and juice from 1 lime
-2 tablespoons extra virgin olive oil
-Salt and pepper to taste
-Combine all ingredients with a whisk until smooth.
For more information contact VVMC Food & Nutrition | vvmc.com/nutrition | (970) 479-5058.