Shaw Cancer Center patients experience 'Skimotherapy"
John LaConte
January 19, 2018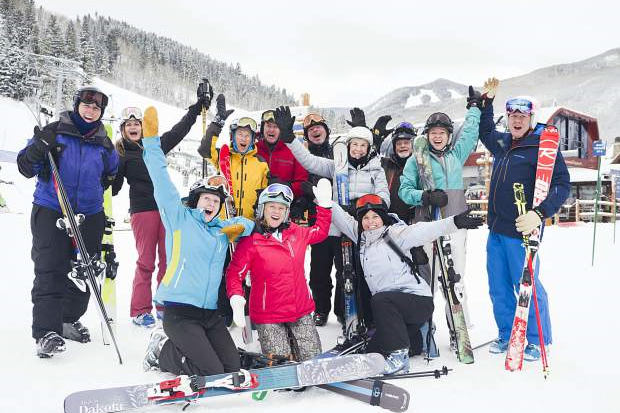 This article was written by John LaConte and printed in the Vail Daily on 1/18/18.

The Pink Vail flamingo has flown into new territory with a new program designed to get cancer patients and Pink Vail revelers on the slopes a couple times in advance of the big event.

Bill Schane came up with the idea. The Beaver Creek skier is coming up on his 40th chemotherapy session, and is feeling as alive as ever as he battles mesothelioma.

Sharing his vision from the slopes of Beaver Creek on Thursday, Jan. 11, Schane described something he called "skimotherapy."

"I always liked to do something hard right after getting chemo, so I'd go skiing," he said. "I'd get chemo in the morning and I'd ski in the afternoon."

He'd send selfies to his doctors, and in those messages the term skimotherapy was coined. It started as a challenge to himself, but Schane soon realized the idea should be shared with others facing similar struggles.

"Here we are, a year later," Schane said from the Gold Dust run. "We're doing skimotherapy."

'NOW THEY CAN'

Schane has become a major part of the Pink Vail fundraising effort and looks forward to the annual ski day for cancer each year. Understanding that not every skier dealing with cancer is on the slopes as often as him is, he saw skimotherapy as a way to get some time on snow in advance of that event.

"It's just doing whatever we can do to get a cancer survivor on a pair of skis," Schane said. "That way if they weren't feeling like they couldn't do Pink Vail, now they can."

This year, Gail Foreman and Dewayne Anderson of Rio Verde, Arizona, joined Schane for skimotherapy.

"I did the whole route of chemo, radiation and post chemo," she said.

Skiing Beaver Creek, "this was much better," she added.

Foreman had breast cancer three times, all in the same breast.

"Great people at Shaw," she said. "Great programs."

ANOTHER SESSION FEB. 7

Foreman recently turned 80 and had never skied soft snow before the powdery Jan. 11 skimotherapy session.

Anderson, her caregiver, was just as excited as Foreman to get a day out on the mountain with his ski buddy.

Excited to finally have Foreman cancer free, "I need someone to ski and fish with," he said with a laugh. They also enjoyed a day of biking this summer with the Shaw Cancer Center.

Shaw recently partnered with Colorado Mountain College to offer a pottery course to survivors, as well.

Anderson and Foreman were among a group of a dozen or so join Schane on the first day of skimotherapy for this season at Beaver Creek. Another is scheduled for Feb. 7

Both skimotherapy and the pottery courses are paid for by funds from Pink Vail, which provides gear, ski passes, breakfast, lunch and lessons for those who need it.

To learn more about Pink Vail and skimotherapy, visit pinkvail.com.