Plant-Based Power Bowl
January 31, 2020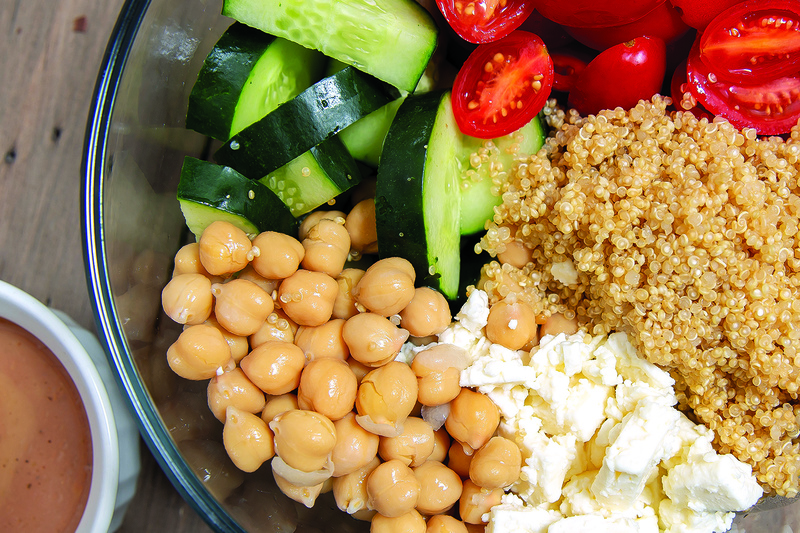 Plant-based proteins offer something that animal products do not — beneficial plant compounds called phytonutrients. Phytonutrients are naturally occurring chemicals that often have antioxidant and antiinflammatory properties.

When consumed regularly, phytonutrients may help boost your overall health and prevent chronic disease. This quick and simple recipe contains chickpeas and quinoa — two plants that offer 8 to 13 grams of protein per cup, plus complex carbohydrates. To add flavor and balance, the dressing provides a dose of healthy fats.



Ingredients:
1 cup grape tomatoes, sliced
1 cup cucumber, sliced
1 cup canned chickpeas, drained
½ cup cooked quinoa
¼ cup feta cheese
2 tbsp Italian salad dressing
Directions:
Toss all ingredients in a bowl and enjoy!
Expert tips:
Protein boost: Add 4 ounces of lean poultry or fish, such as chicken breast or canned tuna.
No added sugar: Make your own dressing using 1 tbsp extra virgin olive oil, ½ tbsp red wine vinegar, ¼ tsp Italian seasoning, a squeeze of fresh lemon and salt and pepper to taste.