Pink Vail Pays It Forward
Kim Fuller
March 07, 2017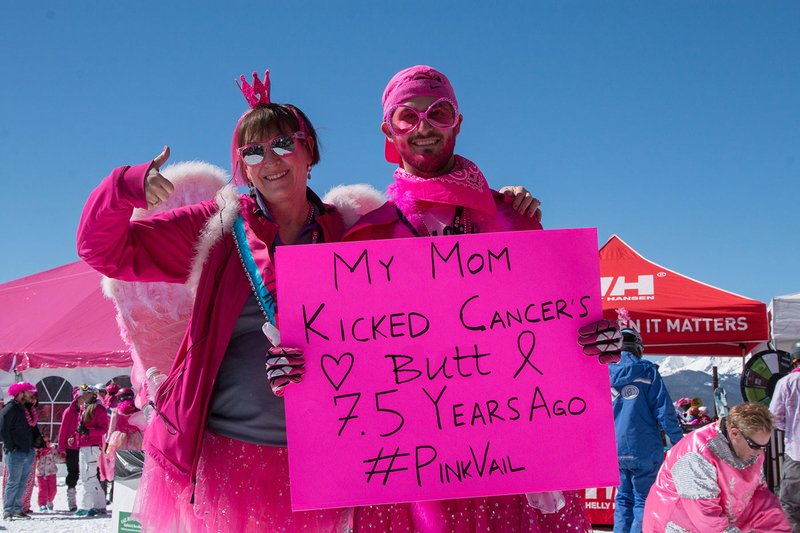 Edwards, CO—When 63-year-old Leslie Holland was diagnosed with skin cancer in 2016, she knew she wanted to be treated at Shaw Regional Cancer Center in Edwards, Colorado—a nearly three-hour drive from her home in Crawford on the state's Western Slope.
Holland had an invasive squamous cell carcinoma that had wrapped around a nerve, requiring 30 radiation treatments in less than two months. With her husband working in Denver during the week, Holland thought she could drive herself back and forth to the appointments in Edwards. Her doctor, however, said absolutely not.
"I couldn't afford to get a hotel there, but I wanted the quality of care Shaw delivers," she said.
Take a tour of Jack's Place, her doctor said, because that's where you will stay.
Holland wondered anxiously how she would afford to stay at Jack's, a cancer caring lodge right next to Shaw.
"I was a wreck," she said. "And the team at Shaw told me it was ok, that it was going to be fine."
Jack's Place provides lodging for patients in active treatment at Shaw on a pay-if-you-can philosophy.
Holland stayed at Jack's for six weeks, and completed her radiation treatments in early January of 2017. She said she went into cancer treatment feeling like a prisoner, and came out feeling like a new person.
Holland explored all the offerings available through Shaw's Spirit of Survival program. Her days were filled with yoga, Pilates, fitness training, massage, meditation, support groups, art classes and spa time.
"My problems faded away, my strength grew, and my health and well-being recovered," she said. "I lost 20 pounds thanks to workouts and Mel, the nutritionist who discovered my broken thyroid and vitamin D levels."
A nurse by trade, Holland said Shaw is the best healthcare program she has seen.
"I've been a nurse a long time," she said, "and I have never seen a program so complete, so awesome. They pick you up and they put you back together, and then they embrace you and say that they're always there for you."
Spirit of Support
The Spirit of Survival program is funded by Pink Vail. Since 2012, Pink Vail has raised over $2.4 million to benefit all patents at Shaw though enhancements to patient care and underwriting the Spirit of Survival program.
"Pink Vail dollars ensure we are able to continue to offer and grow our Spirit of Survival program," explained Doris Kirchner, president and CEO of Vail Valley Medical Center, of which Shaw is a department. "Spirit of Survival is an extension of our mission to provide superior care and excellent outcomes. Thanks to dollars raised at Pink Vail, we are able to offer whole-person care through the support of an oncology dietician, social worker, two exercise physiologists, and a care team that delivers a wide variety of patient support services."
Spirit of Survival provides complimentary services that are not typically covered by insurance, but undoubtedly enhance the quality of life for patients. In 2016, Spirit of Survival provided patients with 2,768 fitness sessions; 450 wellness and exercise classes; 583 counseling sessions; 525 massage, reiki and acupuncture sessions; 423 nutrition consultations, as well as hundreds of group hikes, ski days, hut trips, cooking demos, art classes and educational lectures. Funds also supported 16 patients through the cancer center's new Slim for Survival program.
Clyde Hanks, 66, is a prostate cancer survivor, and started exercising with the Spirit of Survival program in 2006 after his surgery and radiation.
Still on medication and in remission, Hanks worked out with the cancer center's exercise physiologists several times a week. He has attended summer and winter overnight hut trips, and says the camaraderie he has found at Shaw has been vital to his overall wellness and happiness.
"One of the things I think about cancer is that it's very isolating," Hanks said. "You somehow feel you're in it on your own, and you're a little bit shy talking about it and going out in public."
He said sharing fun activities with people helps cancer be a little less consuming.
"You know you are in a similar situation but you don't have to talk about it," he said. "You can talk about your kids or the latest movie you saw or the last book you read."
Once a month, Spirit of Survival hosts an outing. Activities like group snowshoeing, art and pottery classes or "skimotherapy" provide opportunities for cancer survivors to participate in activities that celebrate their vitality.
Erin Perejda, a licensed clinical social worker at Shaw, holds one-on-on counseling and support groups, helps people navigate their financial options and also runs all the survivorship programming.
"I see the direct impact funds from Pink Vail have on our patients," Perejda said, "Thanks to the thousands of people who get involved and support this fun event each spring, we are able to offer a positive experience for patients year-round. For that, we are so grateful."
SIDEBAR—If You Go:
Pink Vail is the world's biggest ski day to conquer cancer.
Saturday, March 25, 2017
New location at Golden Peak
Costume contest, live music, kids tent, deck parties, incredible prizes and Celebration of Life
Register or donate at www.pinkvail.com
Proceeds benefit patient care and the Spirit of Survival program at Shaw Regional Cancer Center.
ABOUT PINK VAIL
Pink Vail has raised $2.4 million in only its first five years. Participants range in age from 1 to 85 years old, and come from all over the U.S. with donations pouring in from all 50 states and nearly a dozen countries. Pink Vail funds patient care and survivorship programs, including free exercise training, nutrition coaching, emotional support, outdoor adventures, a nurse navigator, massages and more.
ABOUT SHAW REGIONAL CANCER CENTER
Shaw Regional Cancer Center, an outpatient department of Vail Valley Medical Center, is for anyone seeking comprehensive cancer care in a peaceful and intimate setting. Patients travel to Shaw for their Ivy League doctors, top-of-the-line equipment—including the best technology available for radiation therapy and 3D mammography—and impeccable reputation for breast and prostate cancer treatment. The multidisciplinary approach of their cancer care team benefits each patient's individualized treatment plan, supporting the patient and family through treatment all the way to survivorship.