Perinatal Services Through The Years
November 21, 2016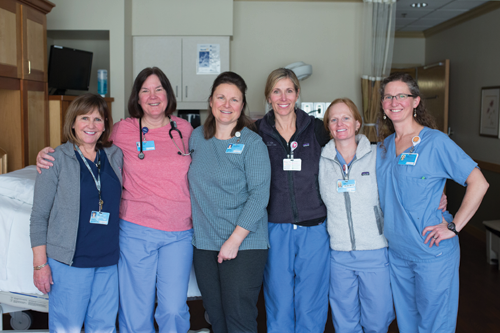 It's been a long and fascinating journey for Amy Lavigne, the manager of perinatal services at VVMC. She started as an acute care nurse in the Detroit suburbs before moving to Colorado in 1999. Once here, she hardly looked back.
"We didn't think of anywhere but the Vail Valley," Amy says. Now celebrating her 17th year at the hospital, Amy looks back at her early days on the Patient Care Unit to the last 16 years in the Women & Children's Center, where she worked her way from a staff nurse to charge nurse to clinical educator and now manager.
"I'd always had a passion for perinatal nursing," Amy says. "This is truly individualized care here: What does each person, each mom, each family want for their experience? That's what we strive for, and our patients are very happy with what we provide. They feel like they have a voice in their care, and that's very near and dear to our hearts here."
Amy now oversees about 30 staff members in labor and delivery, post-partum care, the Level II Nursery - the only one of its kind between Vail and Denver - and services for prenatal patients with complications or other concerns. The journey has been long for this career nurse, but each and every childbirth reminds her why she fell in love with her unit.
"After 16.5 years, I never get over watching a couple come in, just the two of them, and then leave with a third person, with their baby," Amy says. "To be a witness to that shift is incredible. Their life has been completely altered. It's a lot of responsibility on their part and a lot of responsibility on our part to help them be as successful as they can be."
It truly is about the people for Amy. When she arrived, the hospital had about 200 births per year, and in 2007 it had nearly 720. These days, Amy and her staff help welcome about 470 Vail babies per year. She's proud of her department's continuity of care: At a larger hospital, new moms might see doctors and nurses and other specialists in several different departments - or buildings. Here, in Amy's unit, it's a second home.
"Because we're smaller we're able to focus on the entire family, whatever that means for the individual patient," Amy says. "We take care of our dads exactly the same as our moms. We can give that level of individualized care. There's a sense of taking care of each other as a staff and a community, and that has a really amazing feeling to it."