Overnight Oats
October 01, 2019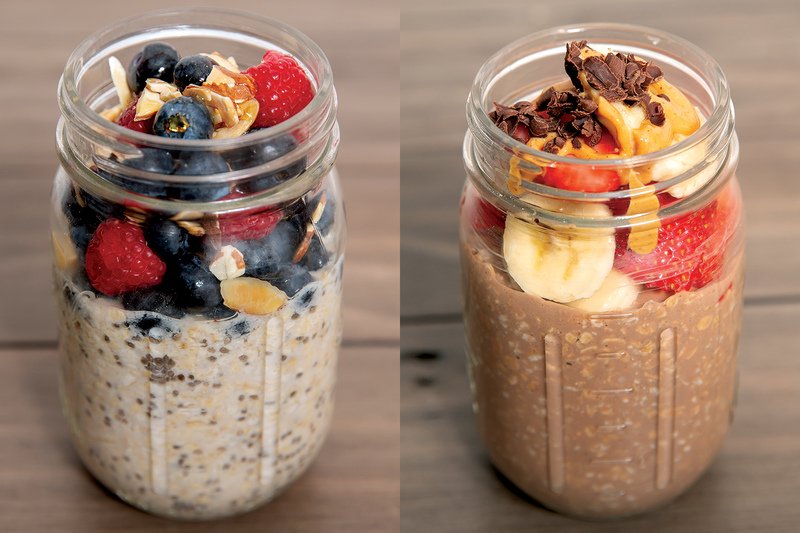 Overnight oats are a highly nutritious and convenient solution for busy mornings. Just half a cup of raw oats packs 4 grams of fiber — around 13% of your daily needs. They're also rich in essential minerals like magnesium, iron and zinc. To turn this into a balanced meal, mix in a variety of colorful fruits, nuts, nut butters and seeds to add protein and healthy fats. Here are three delicious options.

Ingredients:Base:
½ cup old fashioned oats
½ cup low or non-fat milk or unsweetened milk alternative (almond, coconut or rice milk)
Mix-ins & Toppings:
Berry Vanilla Overnight Oats
1 tbsp chia seeds
¼ tsp vanilla extract
½ tbsp maple syrup or other sweetener
½ cup or more of your favorite berries for topping
2 tbsp slivered almonds for topping
Chocolate Peanut Butter Overnight Oats
1 tsp unsweetened cocoa powder
1 tbsp peanut butter
½ tbsp honey or other sweetener
½ cup or more of banana slices for topping
Pumpkin Pie Overnight Oats
1 tbsp chia seeds
1 tsp pumpkin pie spice
½ tbsp maple syrup or other sweetener
½ cup puréed pumpkin
¼ cup plain Greek yogurt for topping
2 tbsp pecans for topping
Directions
:
Combine your base ingredients and chosen mix-ins.
Cover and chill overnight.
Toppings may be added before or after chilling.
Heat in microwave or eat cold.
Enjoy!
Expert tips:
Time-saver: Overnight oats stay fresh in the refrigerator up to five days. Scale up this recipe, prep ahead and portion into lidded mason jars or airtight containers for breakfast on the go.
No added sugar: Skip the sweeteners. Mix in mashed banana or unsweetened applesauce instead.