MIRA hits the road to deliver needed services throughout Eagle County
Pam Boyd
June 29, 2018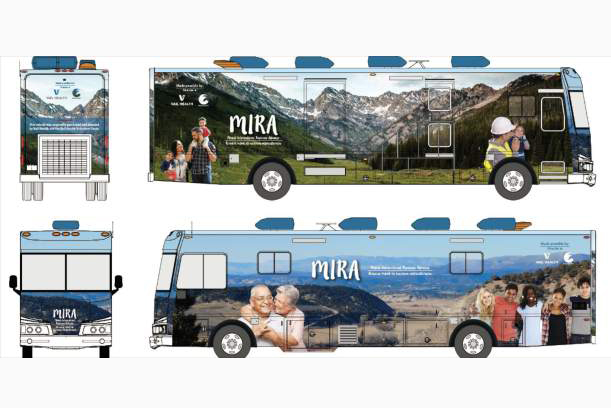 This article was written by Pam Boyd and printed in the Vail Daily on 6/26/2018.

EAGLE — Eagle County has an extensive list of resources available for residents who need some assistance. And, not surprisingly, there are lots of county residents who both need a helping hand and qualify for the kind of aid the county is poised to provide.

But that doesn't mean help always gets to the people who need it. Or, more accurately, it doesn't mean that people can get to where they need to go to get the help they need.

But beginning this summer, community resources are going on the road through a program called MIRA, a project of Vail Health, Our Community Foundation and Eagle County Public Health.

In Spanish, MIRA means "look" or "vision." In the language of acronym, MIRA means "Mobile Intercultural Resource Alliance/Alianza Movil de Recursos Interculturales." In actual practice, MIRA is a 40-foot RV that will bring resources directly to Eagle County neighborhoods and workplaces.

The MIRA RV will be a rolling clearinghouse for services available in Eagle County. Examples include basic health education and screenings, application support for public assistance programs, food resources, workforce development, early-childhood education coordination and physical activity programming.

"Any services we provide in brick-and-mortar buildings we envision offering in this mobile program," said Katie Haas, healthy communities supervisor for Eagle County. The MIRA concept was presented to the Eagle County commissioners last week.

Haas noted that it has taken a massive community effort to launch the MIRA program, which will hit the road in July.

Vail Health's RV

Emily Tamberino, communications and publications manager for Vail Health, noted the MIRA RV was originally purchased in 2012 with money raised by the hospital's volunteer corps and foundation. Previously, it was used as a mobile simulations lab, designed to bring hands-on instruction to medical providers in the central Rockies.

"The simulators continue to be used for training, but when Vail Health discovered Eagle County Public Health was looking for a mobile resource center last fall, an idea formed and Vail Health donated the RV to Our Community Foundation to make MIRA possible," Tamberino said.

In May, the county commissioners signed a lease agreement to assume possession of the mobile resource center. ECO Transit will provide maintenance service and drivers for the RV, which will become part of the county fleet. Our Community Foundation will provide funding for an employee dedicated to the MIRA program. That employee will work directly with community members as the MIRA travels around the county.

"The vision for MIRA aligns with Vail Health's mission to provide superior health services with compassion and exceptional outcomes," said Vail Health President and CEO Doris Kirchner. "We are pleased that the RV can be further utilized, and we're excited to partner with Our Community Foundation and Eagle County Public Health to make important resources available to residents who might not otherwise have access to them."

The initial schedule for MIRA calls for the RV to demonstrate the "mobile" part of its name:

• Sundays: 9 a.m. to 4 p.m. at the Eagle County Fairgrounds Recreation Fields.

• Tuesdays: 9 a.m. to 1 p.m. at Eagle River Village in Edwards.

• Wednesdays: 9 a.m. to 1 p.m. at the Dotsero Mobile Home Park; 4:30 to 7 p.m. at the Gypsum Recreation Center.

• Fridays: 3 to 7 p.m. at Avon Elementary School.

• Saturdays: Select events throughout the summer.

"We can help increase trust in our coming by providing consistent and accessible services," Haas said. "The intent is for this to be a year-round resource, but we have a lot to learn because this is all so new."

The MIRA program budget for its first year is $131,736 — which includes one-time supplies costs and ongoing expenses such as driver pay, the community liaison position, fuel and insurance. Susie Davis, of Our Community Foundation, said after putting in money to get the program started, the organization will now help with grant writing and other efforts to find sustainable funding for the program.

"This is government at its best, working side by side with private and nonprofit leaders to better deliver services to our community," Commissioner Jill Ryan said.

"This is how government is supposed to work," Eagle County Manager Jeff Shroll said. "I am half tempted to get a CDL (commercial driver's license) just to be a part of this."