Jacey Hagen Honored as Recipient of Vail Health Elevate Award
Sally Welsh
September 21, 2023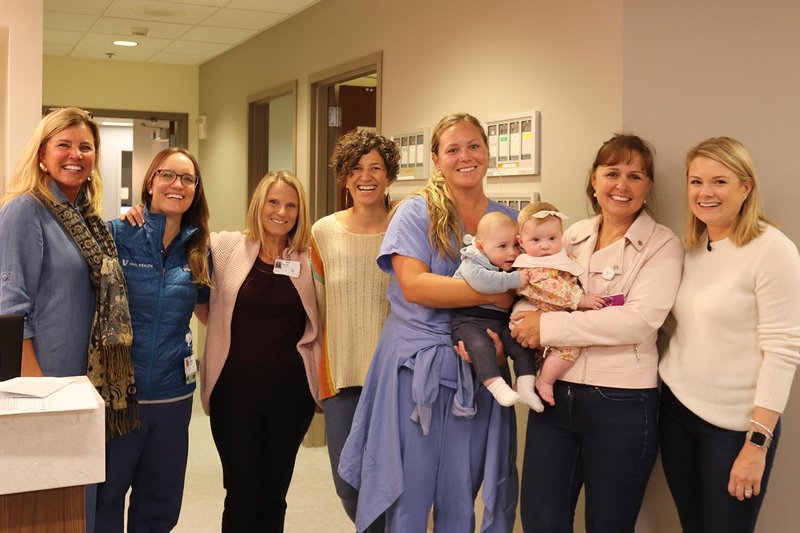 Family Birth Center nurse recognized for exceptional care

Jacey Hagen, a labor and delivery nurse in the Family Birth Center at Vail Health, has been named the sixth recipient of the Vail Health Elevate Award. Vail Health created the Elevate Award in June 2022 to give patients and their families an opportunity to nominate and thank employees who have touched their lives in some way.

Hagen has worked at Vail Health for more than five years and enjoys traveling, camping and being on the river in her free time.

Hagen was nominated by multiple patients, including one fellow Vail Health nurse.

Lindsey Adams, a nurse with 18 years experience, including 14 at Vail Health, had her third baby at the Family Birth Center in January and was impressed with Hagen's skill and controlled and confident demeanor.

"This made me feel very well cared for and in such good hands," said Adams. "Her calm and comforting presence was contagious and affected how I performed my role in giving birth."

Recognizing a co-worker was an honor for Adams.

"All of our time spent in the Family Birth Center in the past five years has been extremely positive thanks to the amazing staff, and this time was no different, but maybe even more exceptional thanks to Jacey," said Adams. "Being a nurse myself for the past 18 years (14 of them here at Vail Health), I understand the challenges of the job and the fact that for the most part, only negative experiences get shared. On the rare occasion my fellow colleagues receive positive recognition, it typically is for saving a life, not for bringing a life into this world, which in my opinion is equally as heroic. But since it happens to be what the OB staff do each and every day, we tend to overlook their incredible work. I appreciate the opportunity to celebrate an amazing fellow nurse!"

"Jacey made the experience of bringing my final child into this world extra special and she will be a special part of the memory of it forever," said Adams. "We are lucky to have Jacey here at Vail Health...Thank you, Jacey, for the outstanding work you do; I'm grateful to have benefited from your nursing talent!"

Hagen, along with several other Family Birth Center staff, was also nominated by Susan Bailey, after she went into labor at 32 weeks pregnant while visiting Beaver Creek on vacation with her family. Following a successful delivery, her daughter, Abigail, had to remain in the neonatal intensive unit for two months to continue growing.

"My daughter and I had a life-saving and life-changing experience with the absolute angels in the Family Birth Center," said Bailey. "This short account cannot capture all the generosity, wisdom, and above and beyond kindness that was extended to me and my family during my daughter's two-month stay in the Family Birth Center."

"The Family Birth Center became my home-away-from-home for the following two months. I loved spending time in the Family Birth Center learning from and getting to know all the nurses and staff," said Bailey. "They welcomed (our toddler) William at each visit, giving him colors and stickers. He loved it!"

The unexpected extended stay in Vail for the entire ski season came as a mixed blessing for Bailey and her family.

"In life, two months is not a long period of time, but my two months with the team at the Family Birth Center, saving my daughter and caring for me, has reframed my entire outlook on life," said Bailey. "A time which could have been devastating and stressful for so many reasons, will be marked with joy, love and the deepest gratitude to Vail Health for investing in the Family Birth Center and supporting the absolute angels that work there every day. Thank you!"

The Elevate Award directly aligns with Vail Health's mission of elevating health across our mountain communities. Past Elevate Award winners include: Erin Perejda, the supportive care services manager and licensed clinical social worker at Vail Health Shaw Cancer Center, June 2022; Susan Vickerman, MD, a family medicine physician at Colorado Mountain Medical, August 2022; Meghan Gallegos, Howard Head Sports Physical Therapist, December 2022; Allie Morgan, Patient Care Unit Registered Nurse, April 2023; and Christi Sewell, RN, OCN in the Patient Care Unit, June 2023.

Patients and family members are encouraged to nominate staff who made a meaningful difference in their health care experience. Nominees can work in any area of the Vail Health healthcare system—including admissions, laboratory, surgery centers, Howard Head Sports Medicine, Shaw Cancer Center, Colorado Mountain Medical, Eagle Valley Behavioral Health and more.

To nominate Vail Health, Colorado Mountain Medical, Eagle Valley Behavioral Health, Howard Head Sports Medicine and Shaw Cancer Center staff, visit VailHealth.org/ElevateAward.