Healthcare for the Underserved
December 12, 2016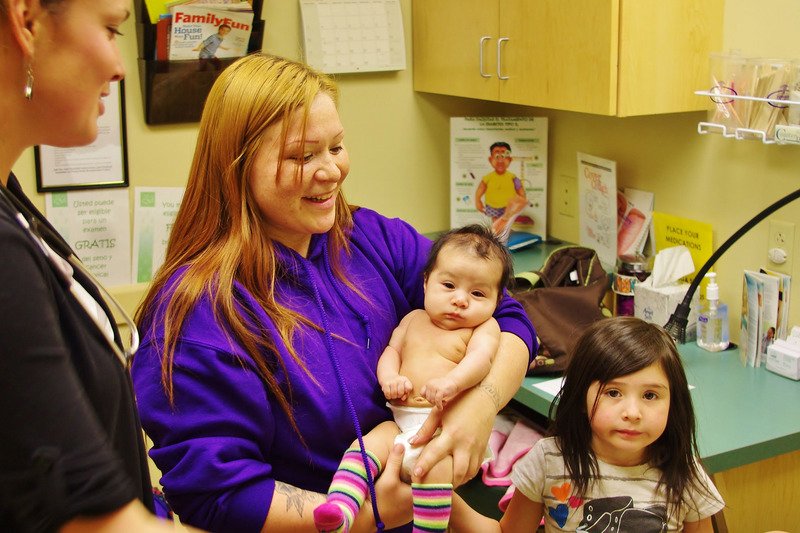 At age 10, Karyn ReNae Anderson's son suffered a serious head injury. Within four years, his participation in karate, soccer, football and basketball resulted in a total of six concussions. The injuries forced him to quit sports; simply watching television or listening to music overloaded his brain and nervous system. The head trauma symptoms, including vision and reading problems, combined with ADHD, prevented him from taking his final exams.
Anderson didn't have insurance when she moved to Vail, so she turned to Mountain Family Health Center (MFHC). MFHC provides integrated primary medical, behavioral health and dental care for the underserved population. For Anderson's family, and other underserved patients, the medical team has gone well beyond its call of duty.
Anderson's son's teachers didn't understand his condition, so MFHC's nurse practitioner Diane Purse visited the school and explained his limitations. They also sent him to Rocky Mountain Concussion Center in Golden for further testing and treatment that they couldn't provide.
"They really want to get to the problem, not just give you a pill or a Band-Aid," Anderson says. "They treat you just like a family member; they care."
A community asset
In partnership with Vail Valley Medical Center (VVMC), MFHC opened a site in Edwards in February 2014 to serve the medical and behavioral health needs of 3,000 Eagle County residents per year.
"The partnership between Mountain Family and VVMC has been invaluable in helping many local families," said Vail Valley Medical Center's President and CEO Doris Kirchner. "Our support of Mountain Family is one way VVMC is addressing population health in Eagle County and giving back to our community."
MFHC exists under the umbrella of a federally qualified health center, or Community Health Center (CHC), which provides healthcare to about 17,000 people in Eagle, Garfield, Pitkin and Rio Blanco counties. MFHC's funding stems from local, state and federal funds, grants, and, in Eagle County, partners like VVMC.
Vail Valley Medical Center provides subsidies to Mountain Family Health that cover the cost of their clinic space in Edwards and expenses not covered by government aid and grants.
Mountain Family operates on a sliding scale basis and serves all patients, regardless of their ability to pay.
"It's not a free clinic," according to MFHC Development Director Garry Schalla. "We want people's skin in the game, because that's how they're going to participate in their wellness. Putting patients at the center of their health allows them to engage more fully."
Medicaid covers approximately half of the patients at the Edwards site; 32 percent are uninsured; and Medicare, the Child Health Plan Plus or commercial health insurance cover the remainder.
Mountain Family serves 48.6 percent of the region's low-income families, the majority of whom live on less than $24,000 for an individual or less than $49,000 for a family of four. It also impacts the local economy by $15.7 million through jobs and tax revenues. It saves $18.1 million in healthcare costs by reducing unnecessary hospital visits.
Caring healthcare
"The healthcare teams at MFHC Edwards provide high-quality healthcare services at an affordable price for the community," said Ross Brooks, MFHC's CEO, adding that MFHC Edwards exceeds the national averages for patient diabetic control, hypertension control, depression screening, childhood immunizations, early prenatal care and patient engagement. "I believe we have some of the most compassionate, high-quality staff in the state of Colorado."
Since 2012, MFHC has worked with Mind Springs Health to deliver integrated, on-site behavioral health services. MFHC employs a team of professionals who offer family therapy, individual counseling, depression screening and intervention and referrals.
Last summer, MFHC opened its first school-based health center, MFHC Avon. It provides medical, behavioral and dental care to students in Eagle County Schools. In 2018, they plan to open a new, full medical, behavioral health and dental clinic in Edwards to serve a larger percentage of the 35,000 low-income residents in the region.
"We want to treat the person on a long-term basis," Schalla said. "We look at the total integrated care package for each individual we serve."
In addition to Vail Valley Medical Center's subsidization of a significant portion of MFHC's clinic in Edwards, the partnership assists patients who walk into VVMC's emergency room and need follow-up care. VVMC also provides lab tests MFHC is unable to perform. Together, the two entities provide a valuable, and much needed, community asset.
"As the community hospital, Vail Valley Medical Center is proud to reinvest our revenues into important services and programs that benefit Eagle County residents," said Kirchner. "Our partnership with Mountain Family ensures healthcare is available and affordable for locals in need."
About Vail Valley Medical Center | www.vvmc.com
Founded in 1965, VVMC has grown into one of the world's most advanced mountain healthcare systems, providing 24/7 emergency care, Olympic-quality sports medicine, evidence-based research, modern cancer care and extensive cardiology services. An independent, nonprofit medical center, VVMC keeps nearly 900 jobs and resources local, better serving our community and visitors. Providing superior health services with compassion and exceptional outcomes, VVMC offers low infection rates, free community services and top-rated patient satisfaction scores.
About Mountain Family Health Centers | www.mountainfamily.org
Mountain Family Health Centers' mission is to provide high quality, integrated primary medical, behavioral, and dental health care in the communities we serve, with special consideration for the medically under-served, regardless of ability to pay. Mountain Family provides a healthcare home for more than 17,000 persons in Garfield, Eagle, Pitkin, and Rio Blanco Counties, with clinics in Basalt, Glenwood Springs, Rifle, Edwards, and Avon. Mountain Family believes access to affordable health care is a human right.