Fueling For Fitness
molly dewey
June 24, 2019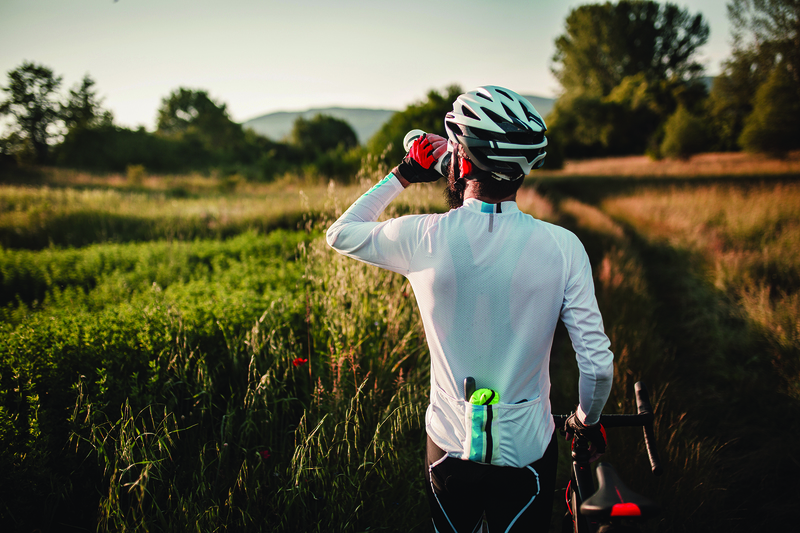 Exercise requires more than gumption; it needs fuel. And though there are certainly some tried-and-true guidelines as to what we should eat just before we head out on a hike/bike/run, fueling up begins before that.

"From a dietitian standpoint, it's what we do every day that is most important," says Annegret Kessler, a registered dietitian nutritionist and certified diabetes educator at Vail Health. "In order to be successful with your exercise performance, you need to have a good foundation."

That foundation comes in the form of a plant-based, nutrient-dense diet that includes protein, healthy fats and carbohydrates. Potassium, magnesium and zinc are all minerals that are essential to high performance. But nutrition is not a "one size fits all" prospect.

"As unique individuals we have our own unique nutrition needs," says Annegret. "Find out what works best for you in terms of fueling your body for fitness and longevity."

Water and Carbs
"Carbohydrates and water work synergistically to provide fuel and hydration," Annegret explains. "The carbohydrates in the beverage, along with the electrolytes, work together by expediting the absorption of water in the small intestine. Water is the most essential nutrient for exercise. Carbohydrates are essential during exercise to prevent fatigue and 'hitting the wall' by keeping blood sugar levels normal."

Glycogen, the storage form of carbohydrates, is tapped when the body needs energy. Preserving your glycogen stores is key to feeling good physically.

"If you want to maintain your muscle mass, continuously fuel your body during exercise," Annegret advises. "Optimum blood-glucose levels will prevent muscle breakdown and preserve glycogen stores. During exercise when blood sugar levels drop and glycogen becomes depleted, a person will burn muscle for immediate blood glucose."

Chris Knerl, the performance manager at Howard Head Performance, also cites water as the most essential nutrient, especially at altitude. When evaluating a client looking to achieve optimal athletic performance, "the first question is always, 'Do you know how much water you're drinking?'" says Chris.

Depending on how strenuous your workout is, you should consume 12 to 24 ounces of fluid for every hour of exercise, as you lose 10 to 12 percent of your performance ability with dehydration. And Knerl actually takes this rule one step further:

"We encourage you to weigh yourself before and after working out to see how much fluid you lost," he says. "For every pound you lose during exercise, you need to be consuming 20 ounces of fluid."

What & When
"When to eat and drink and how much to eat and drink depends on the duration and intensity of the exercise," says Annegret. "What you eat also depends on your own preferences and individual needs. Exercise events greater than 90 minutes and performed at a higher VO2 maximum require more fuel and water."

When you are going to exercise for more than 90 minutes, finish your meal two to four hours before the event begins. Then 20 to 30 minutes before the activity, have immediate carbs, such as one banana, a small handful of raisins or an 8-ounce sports drink. Use all-natural carbohydrate/fluid-replacement sports beverages during exercise. Sports drinks contain the recommended composition of carbohydrate and electrolytes that maximize absorption and maintain blood glucose levels.

"It is well-understood based on research that consuming carbohydrates during endurance exercise or stop-and-go sports lasting an hour or more can enhance physical and cognitive performance by maintaining healthy blood glucose levels and preserving glycogen stores for later in the exercise," she explains.

This translates into approximately 30 to 60 grams of carbohydrate per hour of exercise. In other words, the equivalent of 20 ounces of fluid-replacement drink or one high-carbohydrate energy bar per hour.

And don't discount the value of fueling up the night before, especially if you're heading out on a full-day adventure. A high-carbohydrate, moderate-protein and low-fiber meal for dinner the night before can help, as can a high-carb meal four hours before. The trick is giving yourself ample digestion time so that you can use the meal for fuel at the start of your activity or epic recreational day.

"With the success of proper fueling pre- and during exercise, don't neglect fueling for recovery," Annegret says. "Replenishing muscle and glycogen stores will provide a quick recovery and ability to function better and be more alert, whether you're going to work the next day or to a planned training day following an event."

And though it's common to not be hungry after a long event, she recommends a small meal or large snack with adequate protein to repair the muscles and a carbohydrate to replace glycogen stores.

"Lay the foundation, and continuously hydrate and fuel — which means don't skip meals," Annegret says. "Eating smaller meals and having snacks will fuel the brain and body more effectively. Humans prefer the 'right amount' of a steady source of glucose to function. Focus on healthy carbohydrates and, of course, enjoy some occasional sugar and fat-added meals and desserts."

RECIPES

Oatmeal Peanut Butter Energy Bars
Calories: 240 • Fat: 10 grams
Carbohydrates: 20 grams | Protein: 6 grams
Cooking spray
½ cup honey
½ cup natural creamy peanut butter
2 tablespoons maple syrup
1 tablespoon canola oil
¼ cup light brown sugar
¼ teaspoon ground cinnamon
1 teaspoon vanilla extract
2 cups rolled oats
2 cups crisp brown rice cereal
¼ cup toasted wheat germ
½ cup chopped roasted peanuts
½ cup chopped dried apricots
½ cup chopped dried figs
½ teaspoon kosher salt
directions
Spray a 9x13-inch baking dish with cooking spray and set aside.
In a small saucepan over medium heat, combine honey, peanut butter, maple syrup, canola oil, brown sugar and cinnamon. Stir and cook until mixture just begins to bubble, about 3 to 5 minutes. Remove from heat and stir in vanilla extract.
In a large bowl, combine oats, rice cereal, wheat germ, peanuts, apricots, figs and salt.
Pour peanut butter mixture over oatmeal mixture and stir gently with a spatula until well-combined.
Transfer to baking dish, cover with parchment paper and press firmly into dish. Allow to cool completely.
Sports Drink
1 cup 100% juice (potassium source)
2 tablespoons honey
¼ teaspoon salt
6 cups cold water
directions
In a saucepan, stir juice, honey and salt over medium heat until the honey and salt dissolve. Pour mixture into water.
Shake or stir to combine.
Chill until ready to serve.
_______________________________________________________
ABOUT
Annegret Kessler, Registered Dietitian Nutritionist and Certified Diabetes Educator, Vail Health
Registered dietitian nutritionists work one-on-one with patients to develop personal eating plans for specific nutritional needs and lifestyles. Our RDNs provide counseling for many conditions, including cancer, diabetes and eating disorders, cardiovascular disease and gastrointestinal problems, as well as for personal wellness, prenatal and pediatric care, sports nutrition and weight management. Insurance and billing information is available upon request, and self-referral and self-pay are welcome. To schedule an appointment with one of our RDNs please call (970) 479-5058.
Learn more→
Chris Knerl, Performance Manager, Howard Head Performance
Chris is a certified athletic trainer, certified strength and conditioning specialist, and exercise physiologist. Howard Head Performance will design and deliver health and performance plans that guide people to achieve higher levels of success through an integrated wellness system.
Learn more→