Exercise And Aging Well
May 29, 2019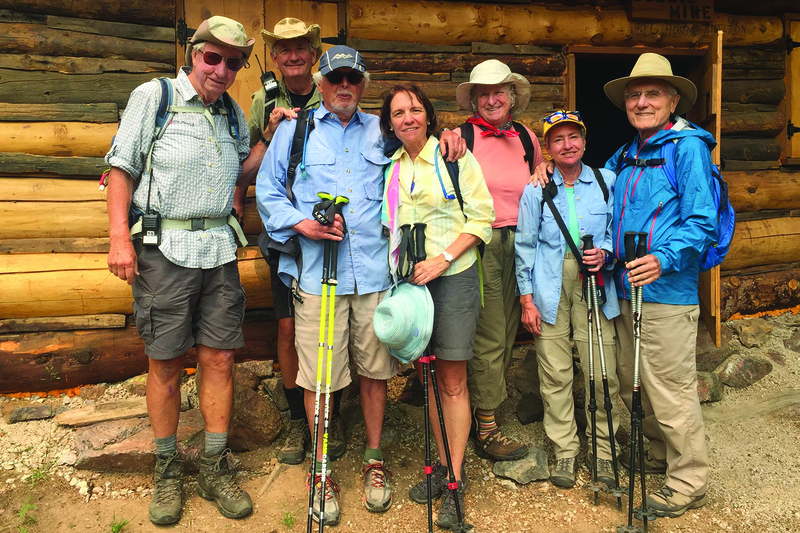 For many of Eagle County's 50+ crowd, growing older isn't a barrier to activity but rather an opportunity to keep going strong. Retirement often comes with increased leisure time, and couples such as George and Charlene Strate — 81 and 80 years old, respectively — are making the most of their time by staying active in Vail's naturally inviting landscape. But their pursuit of lifelong fitness has taken them far beyond this mountain community.

Three years ago, the Strates hiked the Grand Canyon rim to rim, and this fall they have plans to backpack from hut to hut in Colorado's San Juan Mountains. In June, they cycled 350 miles in eight days on trails from Pittsburgh to Washington, D.C., with two other couples from Vail. They've hiked the Haute Route in Switzerland, and biking in Iceland is next up on their list.

Through initiatives aimed at bringing active adults together, such as those organized by Vail Club 50, others besides the Strates are also finding that staying fit can be social and fun. "It has been our lifestyle to do these things, and Vail Club 50 gives us a way to stay a part of an active community," explains Charlene. With more than 800 members, Vail Club 50 is a nonprofit social group that supports older adults in achieving exercise goals — and simultaneously reaping a wide array of medical benefits.

Aging is inevitable, but exercise can act as an elixir to smooth and even slow the aging process. Physical activity benefits people of all ages, and it's especially important in helping older adults avoid common issues associated with aging, including loss of lean muscle mass, osteoporosis, degenerative brain disease and weight gain, among others. When it's a social activity, exercise can also promote cognitive function, emotional health and overall longevity. Medical professionals and active individuals, alike, attest to the link between exercise and aging well.

Exercise and Aging Well
While genetics plays a role in how well people age, exercise is also an essential factor. What "aging well" means can vary from person to person, but the concept is generally associated with thriving — and not just surviving — throughout the lifespan.

"To me, aging well means maintaining the ability to enjoy life with age," says Dr. Dennis Lipton, an internist at Vail Health. "It means being physically able to take care of yourself or others, and mentally able to be engaged with life, staying free of disabling medical conditions. Exercise has been proven to help on all counts."

Dr. Lipton explains that our bodies adapt to the stress we put on them, and exercise works in a positive way as a physical stressor. When we're moving and weight-bearing, our muscles and bones have a reason to stay strong.

"People who stress their bodies regularly with exercise are naturally more muscular, and they're better able to withstand falls and the daily physical demands of life," he says.

The physical benefits of exercise are only one piece of the aging-well puzzle, however. Exercise leads to endorphin release and has mood-boosting benefits too, as scientific studies have shown — and as anyone who has experienced a post-workout high can attest. Exercise has been proven to increase brain-derived neurotrophic factor, a brain hormone that nurtures brain cells and preserves precious synapses, helping us to maintain memory and processing speed.

While exercise can't be bottled and sold, Dr. Lipton doesn't discount its medicinal qualities. He says, "Exercise is a proven treatment for depression and anxiety, working as well as medications in some studies."

Exercise also leads to resilience, which enables older adults to withstand setbacks and still bounce back with their health intact. As people age they naturally lose resilience. For this reason, it's more important than ever to address injuries quickly and safely. Dr. Lipton recommends working with a physical therapist when recovering from an injury to get expert advice on how to return swiftly to a healthy, active routine.

Overcoming Exercise Barriers
The amount and specific type of exercise that each person needs depends on factors including fitness history and current medical conditions. But some general principles apply, including the idea that movement — in its great variety of forms — is key. Staying physically active maintains heart health and keeps the body's metabolism functioning properly.

Yet even with many opportunities to simply get moving each day, several barriers threaten to keep older adults grounded. Injuries, arthritis and pain are physical conditions that can lead to a sedentary lifestyle. Fatigue and fear of getting hurt can also keep people stuck in an inactive routine. Finally, finding the time it takes to commit to exercise regularly can be challenging for those who work full-time as well as those who are retired.

Scheduling time for exercise takes only a moment, but discipline and commitment are needed for successful follow-through. Personal trainers and group fitness classes can help in this regard. Working with a personal trainer can have a positive impact on commitment, especially when there's also a financial commitment at stake. A variety of group fitness classes are often included in gym membership, and the enthusiasm of a trained leader can help generate the tenacity needed to attend classes on a regular basis.

Instead of sticking to one type of fitness class or pursuing a single favorite sport, mix up the movement patterns for greater overall health benefits. Dr. Rebecca Adochio, an endocrinologist at Vail Heath, suggests seeking out a balance of activities: "Cardiovascular and strength training are both important, along with stretching and remaining flexible," she says. All types of exercise can be appropriate for all ages, but it's best to consult with experts — including physicians and physical therapists — beginning something new or making a step change in exercise intensity.

With endocrinology, diabetes and metabolism as her specialty areas, Dr. Adochio sees several additional benefits of exercise: "Regular exercise improves our response to insulin, which decreases our risk of developing diabetes mellitus," she says. "We can also see positive benefits on cholesterol levels, including an increase in HDL, which is cardio-protective." In this way, exercise has the power to both prevent and protect against common chronic medical conditions, including diabetes and cardiovascular disease.

With so many health benefits, exercise leads to a lifestyle that's worth pursuing even if it means working hard to overcome these barriers. When exercise becomes both social and fun, it's easier to see the challenges as stepping stones rather than roadblocks.

Keeping Exercise Fun-Focused
Community-focused organizations like Vail Club 50 make it easier for Eagle County's over-50 population to pursue an active lifestyle with others committed to doing the same.

Vail Club 50 has been offering group activities like skiing and biking, backcountry hiking and mountain climbing for the past 30 years. With a low-barrier annual membership fee of $50, Vail Club 50 remains inviting to "anyone and everyone over the age of 50 who wants to join," says President Pat Cornett, who attributes the club's success to its non-exclusive nature and vibrant volunteer leadership. "Vail Club 50's mission is all about exercise, aging and health," she explains. "We give people a way to actualize their health goals by providing structure and opportunity in a safe, supportive environment that's also very fun-focused."
There's strength in numbers, and the strength of Vail Club 50's members is inspiring. "I'm 70 years old," says Pat, "but there are a lot of other members who are older than I am and just as active — or even more active. I look at them and think, 'Yes, that's what I want to be doing when I'm 80.'"

George and Charlene Strate are two of those inspiring people. While their commitment to staying healthy has taken them on fitness-focused adventures across the globe, their day-to-day approach remains simple. "We try to do something active every day, and we've been able to keep moving through illness and injuries. We definitely recommend physical therapy and following up on an injury recovery training plan when it's needed," says Charlene.

With opportunities that help support Eagle County's aging population stay active, more couples like the Strates are choosing to retire near Vail and in Colorado's mountain communities. A 2017 report published by the University of Washington's Institute for Health Metrics and Evaluation revealed that Eagle County has the third-highest life expectancy in the United States. The other two Colorado counties that top the national list are bordering Summit and Pitkin counties.

The magnetic and magical pull of Colorado's central mountains has always drawn ski bums in search of an endless winter, but more recently, retirees are choosing to make Eagle County their home. Our mountain landscape inspires people of all ages to get outside and stay physically active. And when exercise can be as beautiful as hiking across a trail bursting with wildflowers or as easy-going as catching up with friends while skiing, there's no reason not to join in on what could otherwise more simply be called fun.

-------------------------------------------------------
Learn More

Dr. Dennis Lipton | Internist at Vail Health
In addition to eating a high-nutrient, whole-food, plant-based diet, Dr. Lipton makes sure he's getting optimal amounts of sleep, exercise, meditation and quality time with his family and friends. "To maintain mental clarity and sharpness, I also make sure I learn something new every day!"

Dr. Rebecca l. Adochio | Endocrinologist at Vail Health
Dr. Adochio stays healthy by eating a balanced diet of vegetables, fruits and lean proteins. "I enjoy staying active with my family by hiking, skiing and walking our dog. I also try to make time for yoga, some CrossFit and playing tennis."