Eagle County Super Kid Jack Arnot
November 21, 2016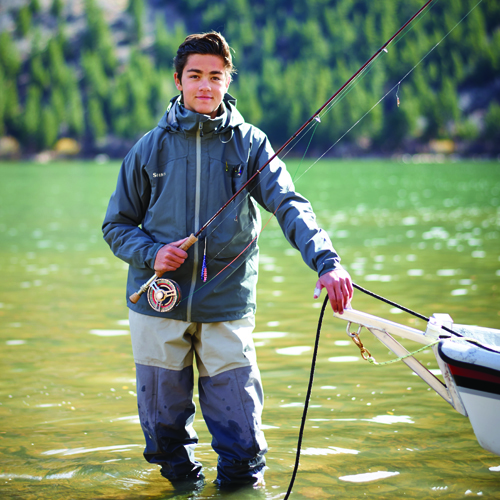 Jack Arnot grew up casting a traditional spinner reel with his mom, Katie Mazzia, a registered dietitian nutritionist at Vail Valley Medical Center. At 10, his dad gave him a fly-fishing rod and he became, well, hooked.
After completing several mandatory clinics in North Carolina and Pennsylvania at age 13, Jack won a spot on the US Youth Fly Fishing team. And then last summer at age 14, he entered The World Youth Fly Fishing Championships in Vail, filling in as a "ghost angler" at Sylvan Lake where the US Youth team finished with a Gold Medal. While he is just starting his competition career, Jack is already ranked 7th nationally. His ultimate goal is to make the travel team for US Youth and compete in Spain this year and Slovenia next year.
Jack's family welcomes the sport as an opportunity to travel, as most of the events are throughout remote places in the United States and, in fact, Jack is the only team member who lives west of Georgia. According to his mom, it is planes, trains or automobiles. Competitions can last 1-3 days and anywhere from 4-15 hours total.
When he's not on the road, Jack can walk down to Brush Creek and fish, or he'll go with his mom or friends out on the Eagle River. "When we first started going into this I was kind of green. There were times when we were out all day until 7 at night. I thought, "I need to bring my Camelback and more food.' We've taken road trips all over Colorado and fished amazing lakes, creeks and rivers, which is great," says Katie.
Jack, a student at Vail Christian High School, says his favorite place to fish is on the Eagle River. He thinks it is one of the best rivers in the world for trout and likes the sport because, as he says, "It's independent and there are changes that can happen. You have to be prepared for a lot of situations."
When not fishing, you'll find Jack tying flies and hanging out with his friends. He also likes to give back to the sport by mentoring up-and-coming fishermen and women.
"When you are on the US Youth team, you help other kids. You can't do the sport by yourself and you need a mentor. There are good people who are willing to help you out. And I like being a part of that," he says.