Eagle County Super Kid Benji Dantas
November 21, 2016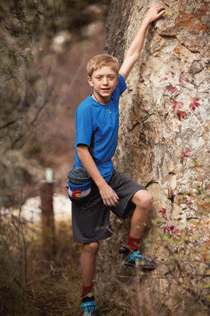 As a toddler, Benjamin (Benji) Dantas would scare his poor mother, Kelly, a Vail Valley Medical Center employee, on a daily basis. She'd come down to the kitchen in the mornings only to find Benji on top of the counter having climbed his way up using cupboard handles as hoists or stopping points on his ascent.
Fast-forward to one summer that Kelly toted her two toddlers with her to work at Beaver Creek, giving them the opportunity to play on the climbing wall and bungee trampoline. "Benji had no interest in anything except spending hours on the climbing wall," says Kelly. By the end of that summer, though he was only five, Benji's dad, Dave, thought he would be well-served on a climbing team. After watching him maneuver on the wall at the Vail Athletic Club, the climbing coach made an "age exception" and let the upward-bound Benji join the team.
Since then, Benji has won his age division in the GoPro Games for the past two summers and excels in both bouldering and sport climbing.
Travel throughout the state and region is necessary, as are bi-weekly practices. Now that Benji's younger sister participates, as well as mom and dad, climbing has become a way to enjoy an afternoon together after a morning on the slopes or other activities.
Now 11, Benji has made the national team. If he re-qualifies each year, he will be able to compete in North America and eventually around the world.
"I like that it is an individual sport and you can reach your full potential," he says. "I hope that climbing can get into the Olympics and I can do this as a living."
He also participates in middle school sports: basketball, football and track. It's a full schedule, but Benji says he enjoys it all - especially the time he gets to spend with his teammates.
"When I play football I'm a lineman so I can't always get the person I'm supposed to and I want to show how good you can be at the sport so it's tough," he says. "But in climbing you can show how good you are up the route and if you fall or something goes wrong you don't give up, you just keep on going."