Eagle County Super Kid Abi Elizade
November 21, 2016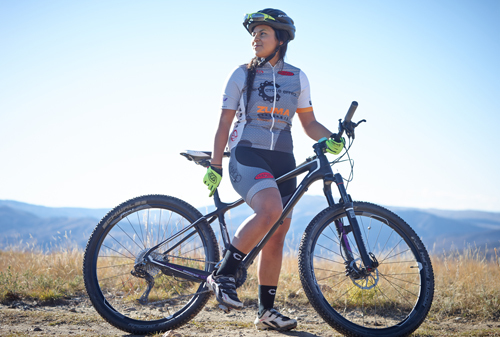 Biking around the neighborhood was always a fun way for Abi Elizade to blow off some steam and enjoy time with her friends. So when she heard that a local mountain biking team was forming in the area, Abi went to a meeting for Cycle Effect, a non-profit organization dedicated to "empowering young women through mountain biking to achieve brighter futures and build stronger communities."
Since joining the organization, Abi, now 18, has forged lasting friendships, triumphed in her sport and determined her long-term career objective: to work with children.
"I really like helping the younger girls," says Abi, whose sister Dariana is a teammate. "I feel I can encourage them not just to mountain bike, but to know there is a chance that they can do things - things that people didn't think they could do."
She takes pride in knowing that she is often referred to as the Hispanic face of the mountain biking community and believes her strong family ties have helped her succeed. "My parents never miss a race," says Abi."They always come and support me and cheer for me. My dad gives me tips and my mom tries to help me eat healthier."
A "second mom" is Cycle Effect's volunteer head coach, Tamara Donelson.
"Tam is my role model. She is a strong woman, she connects with us and helps us. I just want to be like her and be a good sport," Abi says, then adds with a laugh that Tamara's husband and the group's founder, Brett, "motivates you to do your best. The first year you may hate him because he keeps pushing you; he does that because he knows you have the potential to do well."
In 2015, Brett did push Abi to train some days at 5 a.m. in order for her to qualify for the USA Cycling 2015 Mountain Bike Nationals in Mammoth, CA.
And train she did, not only at 5 a.m. but also in the afternoons with teammates. In April, she qualified for nationals.
The experience was eye-opening for Abi, who had never been to the area and was shocked to see it was a ski resort. She enjoyed bonding with other girls and the experience has motivated her to find a college where she can compete. As a senior, mixing education with practice has become a little tricky as Abi takes a CMC class for dual enrollment (high school and college credit).
But just like the mountains she climbs on her bike, ("You are already dying when you get to the top," she says ruefully), she knows the entire ride is worth the effort.