Eagle County Super Kid
November 21, 2016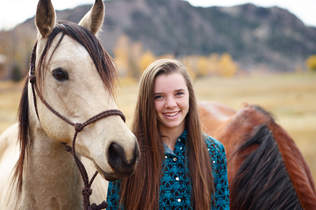 Growing up on a ranch, it was natural for Bailee Boles, 15, to learn to ride before she could walk. Horses always have been - and if this adventurous teen has her way, always will be - part of her life.
In the summer of 2014, after giving a speech and performing a riding pattern for judges, Bailee was crowned the Eagle County Rodeo Princess. During her year-long reign, she represented the county, assisted with 4H events and had countless media appearances.
"Kids would always run up to me and their faces would light up," Bailee recalls.
Even without her sash and crown she was recognizable and children would squeal with delight, "I've seen you before! You are the rodeo princess!"
Bailee is a keen barrel racer who has been competing since she was 10. Her Quarter Horse, Rango, was not bred to be a barrel horse, but with skill and patience, Bailee has turned Rango into a top competitor. Her parents offer support in multiple ways, from making sure Rango is sound to driving her throughout the region to compete in rodeos. "It's amazing what she's done and to see how far she's come," says Shelly McCoy, one of her coaches.
McCoy, Kendra Scott and Kris Whittaker founded Eagle County's Freedom Riders, a mounted drill team organization, 14 years ago.
Bailee is not only an active participant but also a role model for the younger children. "Bailee is a great kid," says McCoy. "She is always helpful and wants to be a leader and is willing to go wherever we need her. She is very good with all the kids and has good communications skills."
"Freedom Riders help give kids experience and confidence on horses and I'm proud to be a part of it," Bailee says. A member of the Soroco High School volleyball team, Bailee divides her time between schoolwork, volleyball, rodeos and training. "I try to train every day on my horse, but when the weather is bad I'll stay inside and practice tying a rope around my feet," she says.
And what purpose does that serve? Goat tying, of course. And that is Bailee's next goal: to compete in the timed sport in which she must run her horse to a tethered goat, flip the goat and tie a specific knot around the goat's feet.
In the future, Bailee would like to compete at the national level and then study equine science or agricultural management to help her family with their ranch.