Eagle County partners celebrate launch of mobile clearinghouse program
Pam Boyd
August 09, 2018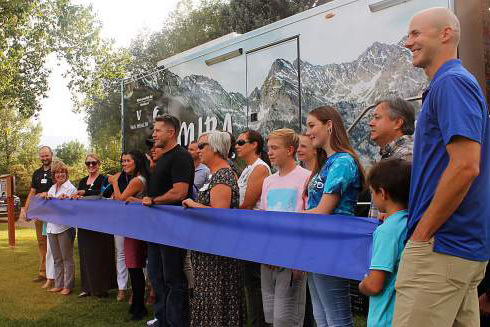 This article was written by Pam Boyd and printed in the Vail Daily on 8/8/18.

Representatives from Vail Health, Eagle County and Our Community Foundation celebrate the ribbon cutting for the new MIRA RV. The MIRA - Mobile Intercultural Resource Alliance - effort will bring an array of services to isolated neighborhoods throughout the county. It is also a rolling emergency resource, as demonstrated during the Lake Christine Fire.

EAGLE — The exterior wrap of the MIRA RV had hardly set when the vehicle was called into service at the Lake Christine fire.

Luckily for more than 400 Eagle County residents, the Mobile Intercultural Resource Alliance RV was ready to roll, providing access to dozens of community resources at time when displaced people desperately needed them.

On Wednesday night, Aug. 8, partners involved with the MIRA program — Vail Health, Our Community Foundation and Eagle County — gathered at Eagle Town Park to celebrate a belated ribbon-cutting for the RV.

The MIRA RV is a rolling clearinghouse for services available in Eagle County. Examples include basic health education and screenings, application support for public assistance programs, food resources, workforce development, early-childhood education coordination and physical activity programming. In Spanish, MIRA means "look" or "vision." In the language of acronym, MIRA means "Mobile Intercultural Resource Alliance/Alianza Movil de Recursos Interculturales." In actual practice, MIRA is a 40-foot RV that will bring resources directly to Eagle County neighborhoods and workplaces.

As newly hired MIRA Community Connector Melina Valsecia Monreal noted, there are many people who live in isolation in Eagle County. They are neighbors who feel left out and left behind, but by bringing services to the places were they live, work and play, they can integrate into the larger community.

"We already have evidence that MIRA will work in Eagle County," Valsecia Monreal said, pointing to the hundreds of residents helped during the Lake Christine fire emergency.

Proud Partners

The MIRA RV was previously used as Vail Health's mobile simulations lab and while that program continues at the hospital, Vail Health agreed to donate the RV to launch MIRA. This offered a new life and new mission for the RV, which was originally purchased through the Vail Health Volunteer Corps. and community support.

"We are so proud of MIRA and this partnership between public and private groups, all striving to help the people who live and work in Eagle County," said Vail Health President and CEO Doris Kirchner. "We have many needs in our community and I am grateful to see individuals and groups come together, once again, to help one another."

"I have watched families struggle and I have known for a long time there are community resources that could help," Eagle County Commissioner Jeanne McQueeney said. "While this is a resource for the community, it will be the community that will make it a success."

McQueeney noted that several county departments ­— from public health which will provide access to services, to ECO Transit, which will provide maintenance and drivers for the RV, to IT, which developed the mobile technology for MIRA, to communications, which is publicizing the resource — have been involved with the effort. Our Community Foundation provides funding for an employee dedicated to the MIRA program.

Now, as MIRA heads out to help people countywide, the partners celebrated the opportunity to bring assistance directly to those who need it.

"We know we are called to help our neighbors in need and in this community, everyone is our neighbor," said Vail Health's Michael Holton.