Vail Nurses and Surgical Technicians Awarded for Exemplary Work
Emily Tamberino
June 14, 2017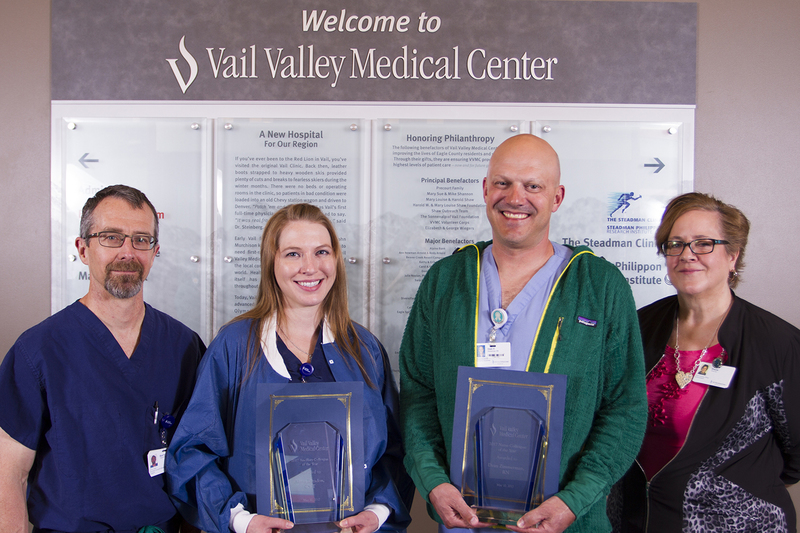 Vail, CO – Dean Zimmerman, Registered Nurse (RN) and Alana Dzadon, Certified Surgical Technologist (CST) were recently awarded Vail Valley Medical Center's Nurse Colleague and Ancillary Colleague of the Year Awards, respectively. The two were honored at the hospital's annual luncheon during National Hospital Week and National Nurse's Week.
"Our clinicians are amongst the most talented and compassionate in their field," said VVMC President and CEO Doris Kirchner. "We are proud of and grateful for this year's award winners, all the nominees and our entire staff for the care they give our community and guests every day."
Zimmerman was nominated for the Nurse Colleague of the Year Award by emergency medicine physician, Dr. Scott McCorvey, who described, "Dean has an incredible amount of experience as an Emergency Department/Critical Care nurse. His compassion is evident with each sick or injured patient he cares for through advocacy, patience and thoughtfulness. He practices true patient-centered care."
Dean is known as a great communicator, as well as a great listener. "He's the first to listen and the first to give appropriate feedback," said Dr. McCorvey. "His demeanor and approach is respectful, warm and caring."
VVMC's Chief Nursing Officer Sheila Sherman, RN supported Dr. McCorvey's nomination, saying, "Dean is a dedicated and committed Emergency Department nurse. He provides the highest level of clinical skills, professionalism and compassionate patient care."
Dzadon was nominated for the Ancillary Colleague of the Year Award by Dr. Jim Downey, a general surgeon at VVMC. As a perioperative coordinator, Dzadon is responsible for assessing, planning, implementing and evaluating the care of surgical patients. She is described as a "general surgery champion" in the operating room. "Alana is an exemplary surgical scrub," said Dr. Downey. "She is knowledgeable, efficient, experienced and an absolute delight to operate with."
Dzadon is also known as an educator amongst her peers. In 2013-2014, she and a colleague started a nursing scrub fellowship to teach nurses how to scrub for surgical procedures, and more recently, the two initiated the creation of a surgical technology program as a partnership between VVMC and Colorado Mountain College. "Dzadon is a leader of innovation and a role model," said Sherman.
Both awards were presented by Dr. Barry Hammaker, a trauma surgeon and the hospital's Chief Medical Officer.
About Vail Valley Medical Center
Founded in 1965, VVMC has grown into one of the world's most advanced mountain healthcare systems, providing 24/7 emergency care, Olympic-quality sports medicine, evidence-based research, modern cancer care and extensive cardiology services. An independent, nonprofit medical center, VVMC keeps nearly 900 jobs and resources local, better serving our community and visitors. Providing superior health services with compassion and exceptional outcomes, VVMC offers low infection rates, free community services and top-rated patient satisfaction scores.