Vail Health Sponsors Eagle Valley High School Classroom
Emily Tamberino
July 19, 2018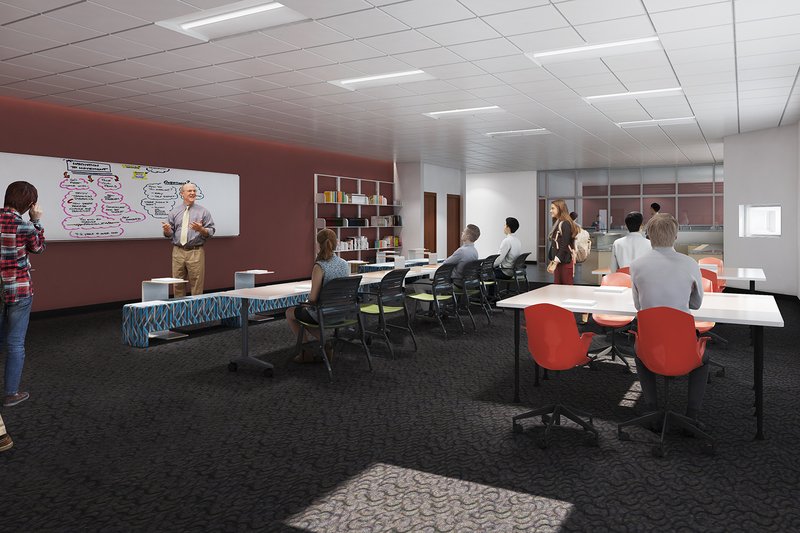 VAIL, CO —Vail Health recently signed an agreement with Eagle County Schools to sponsor a health/science classroom in the new H2 building at Eagle Valley High School (EVHS). With a commitment to advancing health science education and supporting the local school district, Vail Health will be purchasing $50,000 worth of equipment for the classroom.

"Vail Health is continually seeking ways to support local teachers who share our vision for inspiring students, particularly in the fields of science, technology, engineering and math," explains Vail Health President & CEO Doris Kirchner. "We are pleased to make this donation to Eagle Valley High School and are confident the health and science equipment will enhance the experience of the students it serves."

Vail Health supports Eagle County Schools by contributing approximately $275,000 in funds, programming and in-kind support every year.

"Eagle Valley High School and its students are going to benefit greatly from the health sciences program," said Eagle Valley High School Principal Greg Doan. "The contributions from Vail Health will have a direct impact on the quality of the learning experience these students gain."

This collaboration, combined with the support Eagle County Schools receives from Colorado Mountain College, will help EVHS students earn associates degrees through dual enrollment that can be applied directly to employment in the health care industry.

"Eagle County Schools is grateful for the support from Vail Health in outfitting the new health science classroom at Eagle Valley High School," said Eagle County Schools Assistant Superintendent Philip Qualman. "Students will receive training using the same medical equipment used by Vail Health, creating a pipeline of qualified employees for jobs that are in high demand in Eagle County."

About Vail Health
Vail Health, formerly Vail Valley Medical Center, is a nonprofit community health care system with 12 locations across Eagle and Summit counties. Vail Health offers a 56-bed hospital, 24/7 emergency care, helipad, urgent care clinics, cancer care, breast centers, cardiovascular services, surgery, childbirth, physical therapy, internal medicine, endocrinology and more. Locally operated and governed by a volunteer board of directors, Vail Health invested $16 million back into the community last year through charity care; events and outreach efforts, including health fairs, high school physicals, blood drives and free speaker series; programs like ThinkFirst and Camp 911; and financially supporting groups like Starting Hearts, Mind Springs Health, Castle Peak Senior Care, HomeCare & Hospice of the Valley, Mountain Family Health, Steadman Philippon Research Institute, Vail-Summit Orthopaedic Foundation, Eagle County Schools and EFEC. For more information, visit www.vailhealth.org.

About Eagle County Schools
Serving Pre-K through 12th grade students from Vail to Dotsero, including Red Cliff, McCoy, and Bond. Eagle County Schools is an innovative district comprised of 830 professionals engaging nearly 7,000 students. Our vision is to prepare all of our students to be global-ready graduates, who will be successful in their careers or college experience and contribute to their communities in positive and effective ways. The District benchmarks international top performing schools to model practices that lead to success for all students. We focus our efforts on an instructional core of educators, learners, and standards. All actions, initiatives, and efforts are viewed through this lens with the expectation that they must shape one of these three tenets in order to be effective. For more information, visit www.eagleschools.net.