Vail Health Receives 2020 Press Ganey Guardian of Excellence Award
sally welsh
September 30, 2020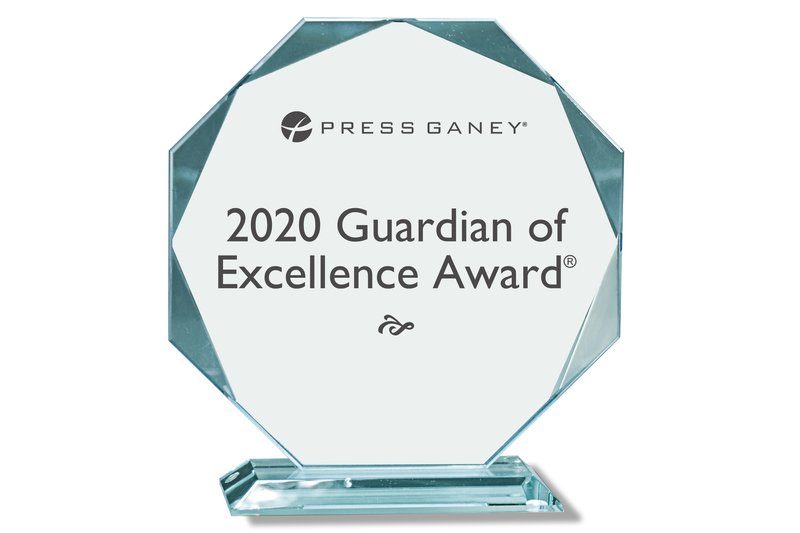 Vail Health is pleased to announce it has been named a 2020 Guardian of Excellence Award® winner by Press Ganey. The Guardian of Excellence Award recognizes top-performing health care organizations that have achieved the 95th percentile or above for performance in Patient Experience. Vail Health received two recognitions in Patient Experience - one for Emergency Services and the second for In-Patient, including the ICU, PCU and Family Birth Center. This is the first time Vail Health has received the recognition, and Vail Health was one of six hospitals in the state of Colorado to receive the recognition.

The Press Ganey Guardian of Excellence Award is a nationally recognized symbol of achievement in health care. Presented annually, the award honors clients who consistently sustained performance in the top 5% of all Press Ganey clients for each reporting period during the course of one year.

"The caregivers and staff of Vail Health touch the lives of patients and their families in profound ways," said Patrick T. Ryan, Chairman and Chief Executive Officer, Press Ganey. "This award reflects their deep commitment to listening to the voices of their patients and our shared mission to reduce suffering and improve the safety, quality, and experience of patient-centered care. I continue to be humbled and inspired by their heroic efforts to care for patients in the face of the uncertainty, stress, and fear brought on by the COVID-19 pandemic. Press Ganey is proud to partner with them in this noble work and we congratulate them on this tremendous achievement."

According to Vail Health President and CEO Will Cook, the award represents an important recognition from the industry's leader in measuring, understanding, and improving the delivery of care.

"This award, which is determined by responses directly from our patients, is a testament to the hard work and dedication of our staff to provide an outstanding experience for our patients," said Cook. "We are so proud that our Emergency Department, ICU, PCU and Family Birth Center employees are being recognized for their contributions, and for this award to come during a pandemic, speaks even more to their efforts."

***

About Vail Health
Vail Health is a nonprofit community health care system with locations across Eagle and Summit counties. Vail Health offers a 56-bed hospital, 24/7 emergency care, helipad, urgent care clinics, cancer care, breast centers, cardiovascular services, surgery, childbirth, physical therapy, behavioral health, primary and specialty care through Colorado Mountain Medical, and more. Locally operated and governed by a volunteer board of directors, Vail Health has committed $60 million to the creation and oversight of Eagle Valley Behavioral Health and $43 million to evidence-based research through the Steadman Philippon Research Institute. For more information, visit www.vailhealth.org.

About Press Ganey
Press Ganey pioneered the health care performance improvement movement 35 years ago. Today Press Ganey offers an integrated suite of solutions that enable enterprise transformation across the patient journey. Delivered through a cutting-edge digital platform built on a foundation of data security, Press Ganey solutions address safety, clinical excellence, patient experience, and workforce engagement. The company works with more than 41,000 health care facilities in its mission to reduce patient suffering and enhance caregiver resilience to improve the overall safety, quality, and experience of care.