Pursuing Excellence
April 04, 2018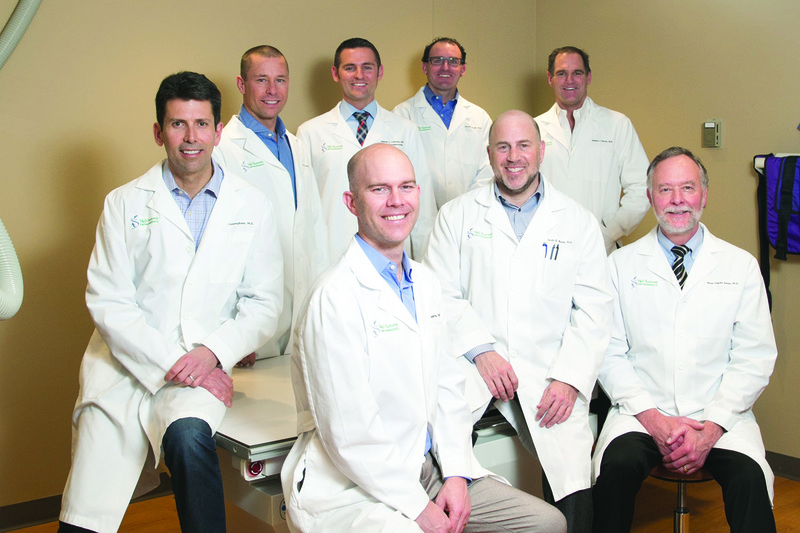 For the doctors and staff of Vail-Summit Orthopaedics, finding new and better ways to serve the needs of both the Eagle and Summit county communities is not only a noble aim, but it is a philosophy vital to the practice. Having provided expert care to one of the most active populations in the country for the past 38 years, the practice has advanced its treatment and rehabilitation plans and protocols to the highest possible level, ever-pursuing the next summit in orthopaedics with new additions and developments.

Improved Practices
Last year was a breakthrough year for the practice; many changes and improvements were implemented, and as a result, they are raising the standard for health care and patient experience. From new partnerships to new employees, Vail-Summit Orthopaedics continues to be on the forefront of health care and provide top-level care for every bone, joint and muscle — from the neck to the ankle and everything in between.

In order to provide evidence-based care and improve patient outcomes, Vail-Summit Orthopaedics has partnered with both OBERD and eClinicalWorks to electronically collect patient health outcomes data to better serve their patients and the orthopaedic community. Through these partnerships, the practice has access to OBERD's Musculoskeletal and Quality of Life Registries to compare outcomes across nationwide data sets. The practice is also able to add to eClinicalWorks' collective research of patient outcome analytics and national health trends, which they actively apply to their current cases. Having the ability to track and compare patient outcomes data will ensure that patients are recovering effectively in comparison to national norms, improving outcomes and overall patient experience now and in the future and supporting Vail-Summit Orthopaedic Foundation's research, education and philosophies.

New Faces
In congruence with new initiatives for advancing their medical and community-centered practices, Vail-Summit Orthopaedics has also seen the addition of new faces and new voices that echo the practice's traditions. The newest joint replacement surgeon to join the practice, Nathan L. Cafferky, M.D., moved to the community in August 2015 and proceeded to establish a total joint surgery program. The next year, he was honored with the 2016 Vail Health Rising Star Award. This award is given every year to a doctor who has been on staff for five years or less, who exemplifies leadership, quality patient care, contributions to the community and hospital and the utilization of evidence-based medicine in daily practice.

The practice also welcomed a new chief executive officer in fall 2016, John Polikandriotis, Ph.D., M.B.A., M.P.H., F.A.C.H.E. Polikandriotis is highly trained in health care administration, with a Doctor of Philosophy in biochemistry, a Master of Business Administration in finance and health care administration and a Master of Public Health. Prior to starting his role at Vail-Summit Orthopaedics, he was the Director of Orthopaedics and Vice President of Ambulatory Operations at Children's Healthcare of Atlanta, one of the largest pediatric institutions in the country with almost one million annual patient visits.

"I was very excited to join the team at Vail-Summit Orthopaedics and the Eagle and Summit county communities as a whole," says Dr. Polikandriotis. "With this excellent group of providers and dedicated medical staff, I see a very bright future for our practice, and I'm honored to be able to take part in it."

As part of their continuing culture of advancement, the practice has expanded its spectrum of care. In addition to the specialties and services they already offer to the area, they have added neurosurgery to their list of specialties, allowing them to better serve those suffering from nerve-related pain. They brought on highly qualified and board-certified neurosurgeon Ernest E. Braxton Jr., M.D., to continue to meet the needs of their patients and community.

"We are proud to have Dr. Braxton join us at Vail-Summit Orthopaedics," says Dr. Richard Cunningham, partner and surgeon at Vail-Summit Orthopaedics. "Having an expert neurosurgeon on our team allows us to offer specialized surgical treatment to get patients with brain, spinal and peripheral nerve injuries and conditions back to doing what they love."

Former Chief of Neurosurgery at the San Antonio Military Medical Center at Fort Sam Houston in Texas, Dr. Braxton joins the practice with nearly a decade of experience as a neurosurgeon. He received a medical degree from the University of Pennsylvania, a graduate degree from Carnegie Mellon University and residency training at Allegheny General Hospital, where he was Chief Resident of Neurosurgery. He is a fellow of the American Association of Neurological Surgeons and certified by The American Board of Neurological Surgery. Through his extensive training and experience, Dr. Braxton demonstrates the same commitment to the highest level of expertise shared by the doctors and staff at Vail-Summit Orthopaedics, making him an ideal fit at the practice and an excellent addition to the community.

Community Leaders
The specialists at Vail-Summit Orthopaedics are among the most experienced fellowship-trained doctors in sports medicine and orthopaedic surgery, but they don't limit their expertise to the operating room. They go beyond their role as health care providers and act as leaders in the community. You will often see them volunteering on the sidelines at local school sporting events, teaching injury prevention workshops for recreational athletes, educating Ski Patrol and first responders on orthopaedic injuries in addition to so much more. Additionally, several of the practice's doctors have been chosen to be part of the elite U.S. Ski Team and Winter Olympic Games physician group, and all providers at the practice deliver individualized care for bone, joint and muscle injuries and conditions for each and every one of their patients, from Olympians to weekend warriors.

Providing orthopaedic care to Edwards, Frisco, Vail and the surrounding areas since 1979, Vail-Summit Orthopaedics continues to be on the forefront of orthopaedic and sports medicine. This leadership over the years is not by mistake; the doctors at Vail-Summit Orthopaedics have a commitment to excellence, and they are driven by the desire to provide their patients the highest quality care. As the dedicated experts at providing sports medicine, orthopaedic trauma, joint replacement and revision and physical medicine and rehabilitation care, as well as treatment for the back, neck and spine, elbow, foot and ankle, hand and wrist, hip, knee and shoulder, the doctors and staff at Vail-Summit Orthopaedics deliver experience you can trust.

Having the ability to track and compare patient outcomes data will ensure that patients are recovering effectively in comparison to national norms, improving outcomes and overall patient experience now and in the future.