Precourt Family Honored for $10 Million Gift to Vail Valley Medical Center
January 30, 2017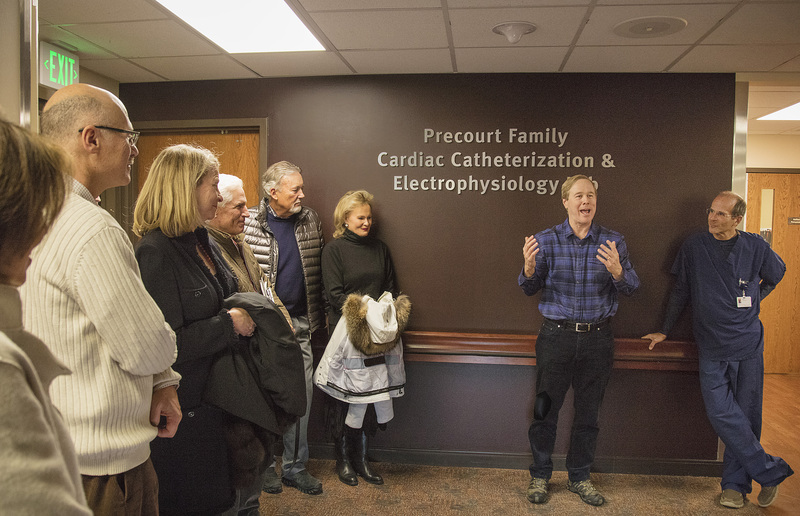 Vail, CO – Vail Valley Medical Center recently honored Jay and Molly Precourt for their $10 million gift to the hospital. In recognition of their generous donation, VVMC's new cardiac catheterization lab was named the Precourt Family Cardiac Catheterization and Electrophysiology Lab.
"We are incredibly moved by the Precourt's generosity," said Vail Valley Medical Center's President and CEO Doris Kirchner. "VVMC will forever be grateful for their support, and the Precourt Family Cardiac Catheterization and Electrophysiology Lab will always remind us of the kindness and confidence they bestowed on the hospital."
Long-time residents of Eagle County, the Precourts have been champions for building a cardiac cath lab at the medical center in Vail. Jay has served on the hospital's Board of Directors since 2011, and the family's donation helped seed the $75 million capital campaign recently launched by the Vail Valley Medical Center Foundation. The Precourt's gift not only supports the cardiac program and cath lab, but also extends to the hospital's endocrinology program, the renovation and expansion of the Vail campus, and research at the Steadman Philippon Research Institute.
"The lab's team saves lives every day by performing the most advanced procedures," said Jay Precourt. "It's this type of specialized care that will make VVMC the most modern mountain hospital in the world."
Vail Valley Medical Center's Cardiology Institute specializes in heart and vascular health and provides comprehensive diagnostic testing and medical management of coronary disease, such as hypertension, arrhythmia and congestive heart failure. Additional services include pacemaker implantation, pre-operative evaluation and anticoagulation services, as well as cardiac rehabilitation.
"Because of the Precourts' gift, we are able to meet the needs of the community, save lives and provide 21st century cardiovascular services without regard for financial return," said Dr. Jerry Greenberg, an interventional cardiologist and one of the lab's directors. Electrophysiologist Dr. Nelson Prager is also a director of the cath lab. The two have worked together for nearly 30 years and recently came to Vail to grow the cardiovascular program at the hospital.
"It's a passion for and commitment to healthcare that moves benefactors like the Precourts to make a difference in our community," said Kirchner. "With the support of generous donors, we will meet our capital campaign goal and create a healthy and active tomorrow for our community and people around the globe."
About Vail Valley Medical Center
Founded in 1965, VVMC has grown into one of the world's most advanced mountain healthcare systems, providing 24/7 emergency care, Olympic-quality sports medicine, evidence-based research, modern cancer care and extensive cardiology services. An independent, nonprofit medical center, VVMC keeps nearly 900 jobs and resources local, better serving our community and visitors. Providing superior health services with compassion and exceptional outcomes, VVMC offers low infection rates, free community services and top-rated patient satisfaction scores.