No Bake Energy Bites
liz pyke
August 30, 2018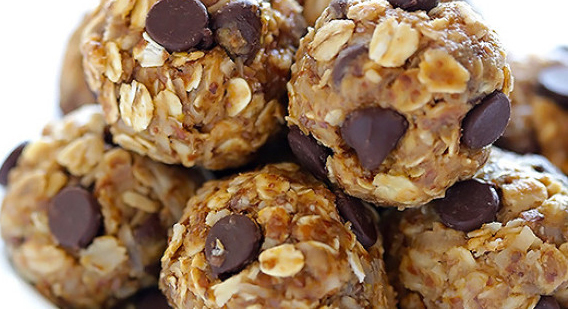 These sweet, no bake treats take minutes to prepare, are filled with healthy ingredients, and make for a great breakfast or snack. Six flavor mixes will add variety to your ingredient base.

Prep Time: 10 minutes
Cook Time: 0 minutes
Refrigeration Time: 30 minutes




Start with base ingredients

ENERGY BITE BASE
1 1/4 cups oats (gluten free rolled oats, quick oats or a blend of half quick, half old fashioned)
2 tablespoons "power mix-ins" (chia seeds or flaxseeds)
1/2 cup nut butter of choice (peanut butter or almond butter)
1/3 cup sticky liquid sweetener of choice (honey or maple syrup)
1 teaspoon pure vanilla extract
1/4 teaspoon salt
1/2 cup mix-ins (see below for flavor options)
Now add in your flavors
CLASSIC CHOCOLATE CHIP
Base ingredients + 1/2 cup chocolate chips
TRAIL MIX
Base ingredients + 3 tablespoons chocolate chips, 3 tablespoons chopped almonds, 2 tablespoons raisins
WHITE CHOCOLATE CRANBERRY
Base ingredients + 1/4 cup dried cranberries, 1/4 cup white chocolate chips
ALMOND JOY
Base ingredients - replace 1/2 cup of the oatmeal with 1/2 cup unsweetened coconut flakes + 1/4 cup chocolate chips, 1/4 cup chopped almonds
DOUBLE CHOCOLATE
Base ingredients + 1/2 cup mini chocolate chips, ADD 2 tablespoons cocoa powder
OATMEAL RAISIN COOKIE
Base ingredients with maple syrup, 1/2 cup raisins, 1/4 teaspoon cinnamon
Directions
Place all of the ingredients in a large mixing bowl: oats, power mix-ins, nut butter, sweetener, vanilla extract, salt, mix-ins, and extra ingredients. Stir to combine. If the mixture seems too wet, add a bit more oats. If it's too dry, add a bit more nut butter. It should resemble a somewhat sticky dough that holds together when lightly squeezed.
Roll ingredients into balls and place on a cookie sheet.
Place rolled ball in the refrigerator for 30 minutes to set.
Store leftover energy balls in an airtight container in the refrigerator for up to 2 weeks or freeze for up to 3 months.
*For nut allergies: In place of the almond or peanut butter, try sunflower seed butter.
Nutrition Information
Serving Size: 1 ball (nutrition info for Classic Chocolate Chip variation)
Amount Per Serving:
Calories: 123 Calories,
Total Fat: 6g,
Saturated Fat: 2g,
Sodium: 47mg,
Carbohydrates: 16g,
Fiber: 2g,
Sugar: 9g,
Protein: 3g,
https://www.wellplated.com/energy-balls/