Alternative Hospital Access For Colorado Classic Bike Race Aug 16
liz pyke
August 03, 2018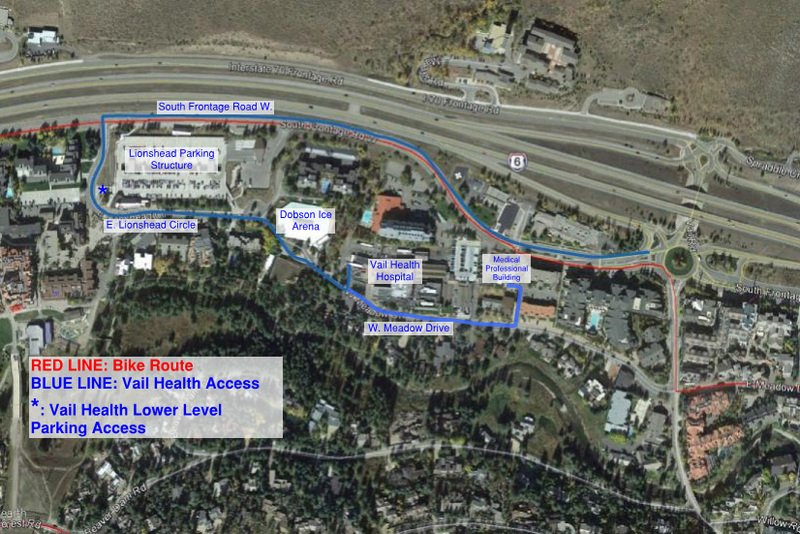 Vail Health Hospital and The Medical Professional Building access will be impacted on Thursday, August 16, due to the Colorado Classic Bike Race.

The attached map highlights the Colorado Classic bike route and Vail Health access route:

Vail Health Hospital Access
Vail Health Hospital for emergencies and scheduled appointments should utilize South Frontage Road to access East Lionshead Circle and proceed to West Meadow Drive for the emergency entrance at 181 West Meadow Drive.

Complimentary valet parking service is available during daytime hours for all patients and guests.

During the race, additional self-parking is available in the west lower level of the Lionshead parking structure with a short walk traveling east along the pathway to the hospital.

There will be signs directing traffic to the hospital.

Medical Professional Building (US Bank) Access
Any appointments at the Medical Professional Building (US Bank) must also use this route to West Meadow Drive, proceeding east past the hospital emergency entrance. Turn north into the Medical Professional Building rear entrance driveway, where there will also be complimentary valet parking service. Signs will facilitate traffic.

Any questions can be directed to Vail Health at (970) 476-2451.

Please allow extra time during this event.