6 Summer Salads With A Twist
liz pyke
June 22, 2018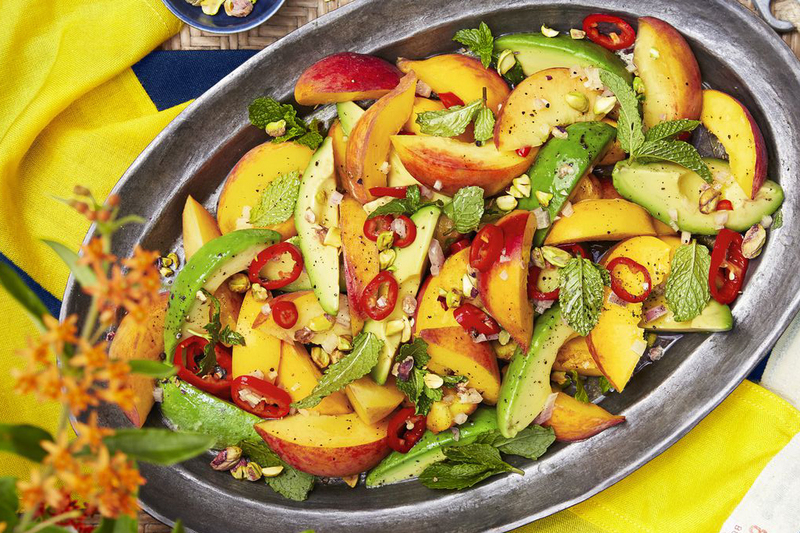 Country Living Magazine is featuring amazing summer salads featuring fresh and healthy ingredients including peaches, avocados, asparagus, grapes and so much more. Time to put a new twist on salads.

ASPARAGUS, SNAP PEA AND RADISH SALAD
Naturally sweetened with honey and sprinkled with feta cheese, this salad is sure to please everyone's pallete.

INGREDIENTS
2 lb. asparagus, trimmed and cut into 2-inch pieces
1 tsp. grated lemon zest, plus 2 tablespoons lemon juice
3 tbsp. plus 1 teaspoon olive oil, divided
3 tsp. fresh thyme leaves, divided
3 tsp. pure honey, divided
1 (8-ounce) block feta cheese
8 oz. snap peas, sliced
1 bunch radishes, sliced
Kosher salt
Freshly ground black pepper

DIRECTIONS
Heat oven to 425°F. Bring a large pot of salted water to a boil. Cook asparagus, in batches, until crisp-tender, 3 to 4 minutes. Run batches under cold water to cool; pat dry.
Whisk together lemon zest and juice, 3 tablespoons oil, 2 teaspoons thyme, and 2 teaspoons honey in a bowl. Season with salt and pepper.
Place feta in the center of a large piece of aluminum foil. Drizzle with remaining teaspoon oil, remaining teaspoon thyme, and remaining teaspoon honey.
Season with salt and pepper. Pull the foil up around the feta to create a pouch. Bake until warmed through, 14 to 16 minutes. Drain excess liquid and crumble with two forks.
Toss together snap peas, radishes, cooked asparagus, and vinaigrette. Serve immediately topped with warm feta.
---
GRAPE SALAD WITH TOASTED PECANS
A dash of brown sugar and handful of pecans give this easy-to-make grape salad a sugary sweet taste.
INGREDIENTS
2 1/2 lb. Red and green seedless grapes
4 oz. cream cheese, at room temperature
1/2 c. sour cream
1/4 tsp. Kosher salt
3 tbsp. packed light brown sugar, divided
3/4 c. toasted pecans
DIRECTIONS
Halve half of the grapes.
Stir together cream cheese, sour cream, salt, and 2 tablespoons brown sugar in a bowl until sugar is dissolved. Add grapes and stir gently to coat.
Top with pecans and remaining brown sugar just before serving.
---
SPICY PEACH AND AVOCADO SALAD
Cool avocado and sweet peaches get a spicy kick from chile peppers in this flavorful salad recipe.
INGREDIENTS
3 tbsp. fresh lemon juice
3 tbsp. olive oil
2 tsp. pure honey
1 shallot, finely chopped
1 Fresno chile, thinly sliced
Kosher salt and freshly ground black pepper
3 ripe but firm peaches, cut into wedges
2 avocados, pitted and cut into wedges
1/2 c. fresh mint, torn if large, plus more for garnish
1/4 c. roasted pistachios, chopped
DIRECTIONS
Whisk together lemon juice, oil, honey, shallot, and chile in a bowl. Season with salt and pepper. Add peaches and toss to coat. Let sit at least 15 minutes and up to 1 hour.
Just before serving, add avocado and mint and toss to combine. Season with salt and pepper. Top with pistachios and garnish with mint.
---
CUCUMBER, CELERY, & SWEET ONION SALAD WITH SOUR CREAM DRESSING
A two-step salad recipe is quick and easy to throw together right before lunch.
INGREDIENTS
3 tbsp. sour cream
3 tbsp. olive oil
3 tbsp. lemon juice
1 tbsp. chopped fresh dill, plus more for serving
Pinch sugar
Kosher salt
Freshly ground black pepper
2 English cucumbers, thinly sliced
4 stalks celery, thinly sliced, plus 1/4 c. celery leaves
1 small sweet onion, halved and thinly sliced
DIRECTIONS
Whisk together sour cream, oil, lemon juice, dill, and sugar in a bowl. Season with salt and pepper. Add cucumber, celery and leaves, and onion and toss to combine.
Serve topped with dill.
---
HONEY LIME RAINBOW SALAD
Just slice up your favorite fruit, toss into a bowl, add dressing, and voila!
INGREDIENTS
1 lb fresh strawberries , diced
1 lb fresh pineapple , diced
12 oz fresh blueberries
12 oz red grapes, diced into halves
4 kiwis , peeled and diced
1 (15 oz) can mandarin oranges in juice, drained well and sliced into halves
2 ripe bananas , diced*
Honey Lime Dressing
1/4 cup honey
2 tsp lime zest (zest of 2 medium limes)
1 Tbsp fresh lime juice
DIRECTIONS
Add all fruit to a large mixing bowl. In a small mixing bowl, whisk together they honey, lime zest and lime juice. Pour over fruit just before serving and toss to evenly coat (as it sits for a few minutes the juices will gather at the bottom, so toss again before plating).
*The bananas aren't pictured. I decided to add them later on because I love the sweet flavor they add.
---
DILL PICKLE POTATO SALAD
Pickle fans, you'll love this summery salad.
INGREDIENTS
3 lb. baby red potatoes (halved or quartered if large)
Kosher salt and freshly ground black pepper
3/4 c. chopped dill pickles, plus 5 tablespoons brine
2 tbsp. red wine vinegar
3 celery ribs, chopped
1/4 c. chopped fresh flat-leaf parsley
3/4 c. mayonnaise
DIRECTIONS
Place potatoes in a saucepan; cover with cold salted water. Bring to a boil, reduce heat to low, and simmer until tender, 4 to 6 minutes. Drain.
Gently toss hot potatoes with pickle brine and vinegar in a bowl. Let cool 15 minutes, stirring occasionally.
Stir together celery, parsley, mayonnaise, and pickles in a separate bowl. Add potatoes and any remaining brine mixture and gently toss to combine. Season with salt and pepper. Serve immediately, or chill up to 2 days.