Allie Morgan Honored as Recipient of Vail Health Elevate Award
Sally Welsh
April 10, 2023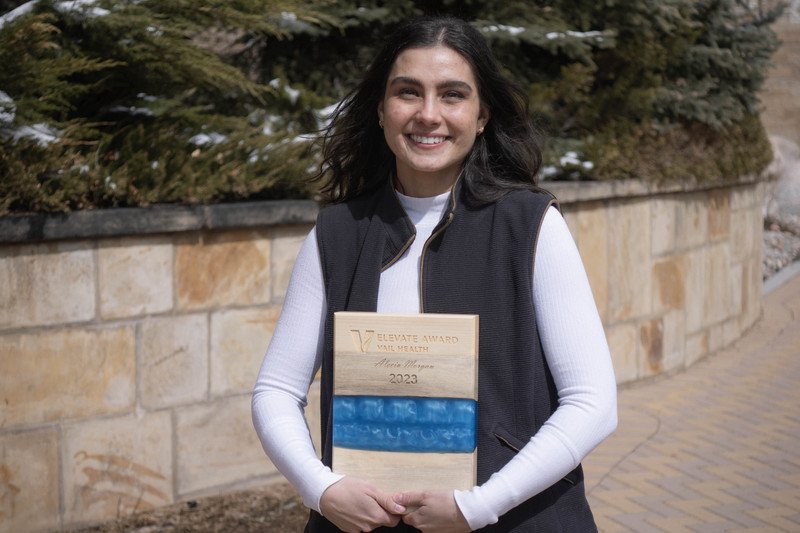 RN in the Patient Care Unit recognized for exceptional care

Allie Morgan, a registered nurse in Vail Health Hospital's Patient Care Unit, has been named the fourth recipient of the Vail Health Elevate Award. Vail Health created the Elevate Award in June 2022 to give patients and their families an opportunity to nominate and thank employees who have touched their lives in some way.

Morgan is from Wisconsin and has worked for Vail Health since July 2022. Previously, she worked for the Mayo Clinic in Minnesota.

Morgan was nominated for the award by Gregory Strine, a resident of Gypsum, for the care Morgan provided him following a ski accident on Thanksgiving Day.

"The first thing Allie asked rolling me through the hallway was if I prefer Greg or Gregory, which no one else ever did. Seems like such a small thing, but it helped calm me down," said Strine. "She immediately brought such a calm, caring presence into my night."

"The whole time Allie was talking with me, comforting me, and just generally making me feel like everything would be okay. I didn't realize how sad and lonely I had felt before, and she took that all away. Her gentleness and eagerness to get my mind off everything that happened helped calm me down so much. This was one of the worst nights of my life, and she made it seem not that bad," said Strine.

Strine, who works as a baker at Color Coffee, had spent the morning preparing a Thanksgiving dinner prior to skiing; however, his accident resulted in him having to miss enjoying that dinner.

"I told Allie about how bummed I was about my Thanksgiving dinner, and she went out of her way to get me some desert, probably the kindest thing anyone did for me during my stay (although all of the other staff members, especially the nursing team, were amazing and I wish I could submit these for a couple employees)," said Strine. "She even recommended an awesome baking book for me to be able to mess around with before I go back into work!"

"I just feel so grateful that I live near these amazing facilities and people," said Strine.

The Elevate Award directly aligns with Vail Health's mission of elevating health across our mountain communities. Past Elevate Award winners include: Erin Perejda, the supportive care services manager and licensed clinical social worker at Vail Health Shaw Cancer Center, June 2022; Susan Vickerman, MD, a family medicine physician at Colorado Mountain Medical, August 2022; and Meghan Gallegos, Howard Head Sports Physical Therapist, December 2022.

Patients and family members are encouraged to nominate staff who made a meaningful difference in their health care experience. Nominees can work in any area of the Vail Health healthcare system—including admissions, laboratory, surgery centers, Howard Head Sports Medicine, Shaw Cancer Center, Colorado Mountain Medical, Eagle Valley Behavioral Health and more.

To nominate Vail Health, Colorado Mountain Medical, Eagle Valley Behavioral Health, Howard Head Sports Medicine and Shaw Cancer Center staff, visit www.VailHealth.org/ElevateAward.