William Sterett
MD
---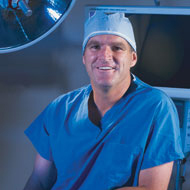 | | |
| --- | --- |
| Specialties | Orthopaedic Surgery, Orthopaedics |
| Focus | Joint Replacement, Knee, Shoulder, Sports Medicine |
| Languages | English |
| Contact | (970) 476-7220 |
| | |
| --- | --- |
| Education: | University of California at Davis |
| Residency: | University of California at Davis |
| Fellowship: | Knee and Shoulder Sports Medicine Fellowship, Steadman-Hawkins Clinic, Vail, Colorado; Orthopedic Trauma and Joint Preservation Fellowship, Bern, Switzerland and Hannover, Germany. |
| Board Certification: | American Board of Orthopaedic Surgery |
Specialty: ACL Reconstruction, Sports Injuries to the Knee and Shoulder, Joint Preservation, Orthopedic Trauma
What's it like being one of the busiest ACL surgeons in the country in a place like Vail? Let's just say there's no such thing as office hours for Dr. William Sterett. Friday nights for the past 14 years have been spent volunteering thousands of hours of free medical services on the sidelines of Eagle County high school games.
Dr. Sterett was a Partner and Managing Partner at The Steadman Clinic in Vail for 18 years and has been Head Team Physician for the US Women's Ski Team since 1997. As you might expect, Dr. Sterett is on call every winter weekend, never mind middle of the night emergency phone calls from overseas. Just ask Lindsay Vonn and her teammates. He also has a long history of returning athletes to the NFL, NHL, Major League Baseball, European Soccer Leagues and virtually every recreational sport known.
Dr. Sterett will tell you that he has the best job in the world and is genuinely having fun. What could be better than fixing things, especially when those "things" are the people you've shared your life with for the past 18 years? The only down side might be that it's hard to get through the grocery store when you find a couple enthusiastic patients in every aisle. But truly, Dr. Sterett wouldn't have it any other way.
Landing in Vail was no mistake. And no, it wasn't because of his lifelong passion for skiing. His motivation was purely about getting the best sports medicine training available. As one of the top applicants in the country, Dr. Sterett turned down fellowship training in some of the best institutions in the country to train at Vail's Steadman-Hawkins Clinic back in 1993.
After his fellowship training, he decided to seek a second fellowship in orthopedic trauma, studying in Switzerland and Germany. Why two fellowships? Dr. Sterett wanted the ability to treat the entire injury to the knee and shoulder, and not just the soft tissues.
Soon thereafter, his mentors Dr. Richard Steadman and Dr. Richard Hawkins offered him an opportunity to grow the two-person Steadman-Hawkins Clinic to its current size and world-renown stature. By 2011, Dr. Sterett had been a managing partner at the Steadman Hawkins Clinic for 12 years and was among the busiest ACL and complex knee surgeons in the country.
True to his love for this mountain community, Dr. Sterett turned down some of the best known sports medicine centers in the country to join Vail-Summit Orthopaedics. He saw in VSO the same passion for community that has defined his career from day one. He recognized that his new colleagues at VSO are some of the best-trained orthopedic surgeons in the world, and that they shared his devotion to putting the needs of patients above all else. Dr. Sterett admired the team environment at VSO, and knew that his experience with team sports (both playing on teams and serving teams with medical expertise) would make for a unique fit.
If Dr. Sterett would have you understand one thing about his areas of expertise, it would be that research, technology and technique are rapidly changing. What was held for true two years ago, may no longer be the case. Being innovative and creative with the next generation of Activity Preservation techniques is what has kept Dr.Sterett on the forefront of orthopedic sports medicine in this country.
RELATED LINKS