Level III Trauma Center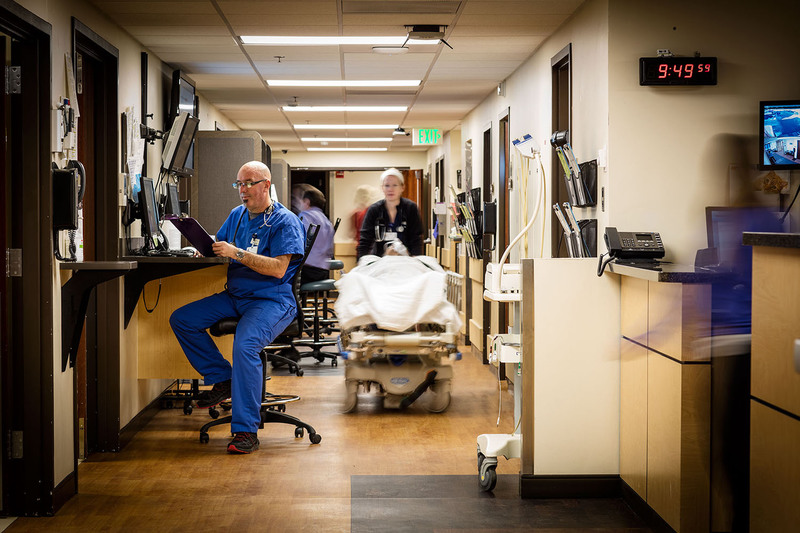 Big-city care, small-town feel
Philanthropy makes sure we're ready for the unexpected
No one plans to take a spill on the slopes or on a bike. But when the unexpected happens, be assured excellent emergency care is close by at Vail Valley Medical Center's Emergency Department. And thanks to generous benefactors like you, the staff is well-equipped to provide high-quality care 24/7.
Philanthropic dollars—totaling more than $100,000 in 2015—are helping the ED provide the most advanced care.
High-tech, high-touch
"At VVMC, it's high tech meets high touch; there's really no system like it," says Sheila Sherman, MSN, CNS, RN, Chief Nursing Officer.
She adds our Emergency Department has one of the most advanced trauma-scene-to-operating-room systems in the world. The staff is well known for handling emergencies—caring for more than 13,000 patients annually. In fact, we are the 4th busiest Level III Trauma Center in the nation and 2nd busiest in Colorado.
"My favorite description of what we do is 'pit crew,'" says Mary Jastrab, an ED nurse for 26 years. "You have an accident or illness, and when you come to us, we have a team that works to get you back to your life, vacation, wedding, work, whatever."
Nationally designated care
Being accredited as a Level III Trauma Center is unusual for a small, rural hospital. This designation means our staff has the expertise and technology to provide prompt assessment, resuscitation, emergency surgery and intensive care.
Goldstein describes our ED as a microcosm of those in major urban areas. Even though our center has only 10 beds, we can care for as many patients as a 25-bed unit because of our streamlined processes and efficiency.
"We see the same number of traumas and heart attacks per capita to anywhere in the nation," she says. "And we have the same services as a big-city hospital."
Even being high tech, we still treat each patient special. Our patient satisfaction scores are proof. In 2015, service in our Emergency Department ranked in the 95th percentile in the U.S.
"Every ED has the same mission—to provide high-quality healthcare," Sherman says. "But we provide a lot more. We see you faster and with a very personal touch."