Sonnenalp Breast Center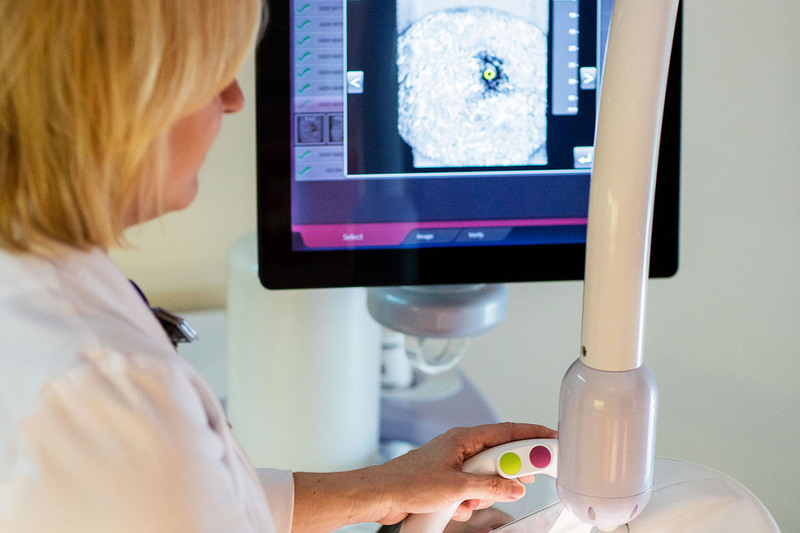 On the leading edge
Experts at Vail Valley Medical Center recommend women have annual mammograms for the early detection of breast cancer. Why? Because mammography is 85 percent sensitive in identifying tumors. And those percentages get even better with the addition of ultrasound screening. That's why the Sonnenalp Breast Center has added the latest ultrasound technology to its set of cancer-fighting tools.
Earlier this year, the center installed GE's Advanced Breast Ultrasound (ABUS), the only FDA-approved breast ultrasound for detection of cancer in dense breasts. Having ABUS at Sonnenalp is especially important since 60 percent of Eagle County women have dense breast, says Janice Ugale, MD, the center's medical director. This compares to a national average of 45 percent.
"Philanthropy allows us to purchase the most sophisticated equipment, like ABUS, so we can provide our patients the latest in breast imaging," Ugale adds. She says the center ranks in the nation's top 10 percent of breast centers for equipment quality.
The purchase of ABUS was possible because of the generosity of the Sonnenalp of Vail Foundation, Vail Breast Cancer Awareness Group and Shaw Outreach Team.
Advantages of new technology
How does ABUS work? This state-of-the-art ultrasound takes multiple scans of the breast. These images are then constructed into a three-dimensional model, which provides radiologists a clearer, more comprehensive view. Mammography, along with ABUS, increases the sensitivity of detection to 95-98 percent. Combining mammography and ultrasound has increased detection of Stage 1 cancer among Sonnenalp patients 40 percent.
Pioneer in cancer care
With ABUS, Sonnenalp has become a pioneer in cancer detection, not only in Eagle County, but also along the Front Range; only a few centers in the Denver area have this technology.
While the Sonnenalp Breast Center may be small compared to other U.S. centers, it is achieving big results. According to Colleen Berga, manager of breast imaging, the center's advanced care and latest technology has led to our patients' survival rates surpassing the national average.
She adds, "Because of the generosity of our community, we have the technology and expertise needed to provide the best breast cancer care to our patients."