VVMC Volunteer Corps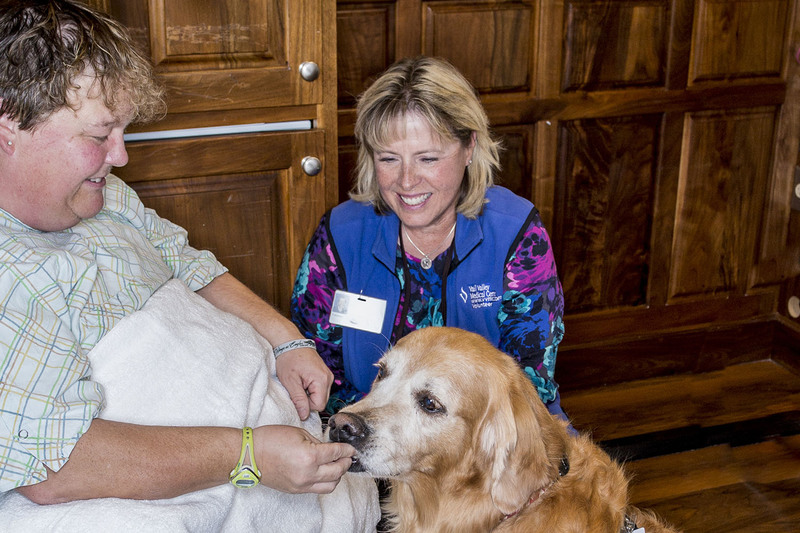 Giving through time
Murphy, one of our 100 volunteers, visits patients at Vail Valley Medical Center twice a month. They can't help but smile when he saunters down the hall. And one of his hugs always brightens their day.
While most of our volunteers have two legs instead of four like Murphy (he's a Pet Partner therapy dog), they all devote time and energy to making our patients and their families as comfortable as possible.
"I have received much kindness in my life, and volunteering is my way of sharing it with others," says Nancy Berg, president, VVMC Volunteer Corps. "As volunteers, we get back so much more than we give."
Volunteers, like Nancy, offer a wide variety of services at VVMC, such as:
Assisting customers in the Gift Shop
Staffing information desks
Handing out drinks, snacks and warm blankets
Offering a smile or hug (or a tail wag in Murphy's case)
Gift makes new expertise possible
Our generous volunteers give more than their time. They provide financial support annually. Over the past 35 years, they have raised $1.65 million for the hospital.
This year their gift went to establish the SANE (Sexual Assault Nurse Examiner) Program at VVMC. This national program trains registered nurses to provide comprehensive care to sexual assault victims and ensure examination and treatment meet law enforcement's needs.
The group decided to fund the SANE Program after learning about a volunteer's friend who had been assaulted. The group went to Mark Goldstein, RN, director, Emergency Services, asking how they could help such patients. He explained how the specialized resources of a SANE Program would greatly improve the level of care we could provide.
The group immediately made a gift to purchase the necessary equipment and staff training. The SANE Program is one more unique service our generous benefactors are helping provide our community.
"It's unusual for a hospital our size to have this expertise," Goldstein says. "But thanks to our volunteers, assault victims who come to VVMC now receive the specialized care they need. "