Registered Nurse Operating Room
To us, it's about living life to the fullest while serving our patients, teammates, neighbors and friends. We are dedicated and passionate in everything we do, seeking challenge and appreciating the routes that got us here. Whether our path is clinical or not, we all came to find balance and meaning in our lives within the work we are passionate about and the adventures we live.
Vail Health has become the world's most advanced mountain healthcare system. Our updated 520,000-square-foot hospital opened in December 2020. This state-of-the-art facility provides exceptional care to all of our patients, with the most beautiful views in the area, located centrally in Vail.
$15,000 Sign on bonus + $750 housing stipend + employee housing available!
Located in Basalt, Colorado, the Steadman Philippon Surgery Center is the preeminent location for orthopaedic and sports medicine surgeries and procedures in the Roaring Fork Valley. The brand new, state-of-the-art Steadman Philippon Surgery Center opened early 2022.
The Steadman Philippon Surgery Center is committed to offering the latest treatments in orthopaedic surgery, across all specialties. Our physicians provide sports medicine surgery and treatments, as well as surgery and procedures for all major joints and extremities. This includes knee, shoulder, hip, hand, wrist, elbow, foot, ankle, spine and neck.
Basalt is beautifully situated between the Sopris and Basalt mountains. You'll be just 20 minutes away from the heart of Aspen. Basalt is an outdoor enthusiasts paradise, with easy access to fishing, mountain biking, cross country skiing trails as well as lift-accessed downhill skiing only minutes away.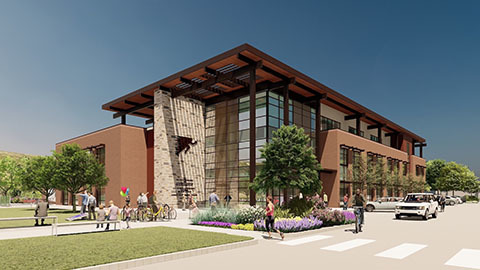 Pay is based upon relevant education and experience. Additional geographic pay differential available (depending upon position location).
POSITION PURPOSE:
This position assumes responsibility and accountability for providing nursing care for patients and their families. Assure expert, compassionate, individualized nursing care for patients and families is expected. They collaborate with providers, staff and other members of the team to achieve optimal patient outcomes.
ESSENTIAL JOB FUNCTIONS:
Oversees the daily patient flow to optimize patient care, safety and satisfaction.

Demonstrates ability to triage incoming patient requests for services.

Delivers patient education to facilitate plan of care, employer informed healthcare choices, and promote optimal wellness.

Demonstrates ability to delegate care appropriately and according to Colorado statue.

Demonstrates competent healthcare assessment skills, prioritizing skills and critical thinking skills.

Demonstrates ability to handle high telephone volume of patient requests for medications, information and assistance.

Administers medications, performs treatments, and assists in procedures as needed; consistently adhering to patient safety guidelines.

Coordinates patient care with other physician practices, Vail Health and others as needed to achieve the highest possible level of patient care and satisfaction.

Demonstrates ability to work independently with minimal supervision.

Delivers excellent service by utilizing Relationship-Based Care to advocate for safety, patient preferences, and optimal communication through partnering with patients and families.

Role models the principles of a Just Culture and Organizational Values.

Perform other duties as assigned. Must be HIPAA compliant.
This description is not intended and should not be construed to be an exhaustive list of all responsibilities, skills and efforts or work conditions associated with the job. It is intended to be an accurate reflection of the general nature and level of the job.
MINIMUM QUALIFICATIONS:
Experience:
One-year clinical experience required.
License(s):
Licensed as a Registered Nurse in the state of Colorado or from a valid compact state required.
Certification(s):
Basic Life Support (BLS) required.
Advanced Cardiac Life Support (ACLS) required.
Computer / Typing:
Must possess, or be able to obtain within 90 days, the computers skills necessary to complete online learning requirements for job-specific competencies, access online forms and policies, complete online benefits enrollment, etc.
Must have working knowledge of the English language, including reading, writing, and speaking English.
Education:
Minimum of Associate Nursing Degree for positions hired after 07/01/2018.
Pay is based upon relevant education and experience per hour.
Hourly Pay:
Some roles may be based outside of our Colorado office (remote-only positions). Roles based outside of our primary office can sit in any of the following states: AZ, CO, CT, DC, FL, GA, ID, IL, KS, MA, MD, MI, MN, NC, NJ, OH, OR, PA, SC, TN, TX, UT, VA, WA, and WI. Please only apply if you are able to live and work primarily in one of the states listed above. State locations and specifics are subject to change as our hiring requirements shift.
Benefits at Vail Health (Full and Part Time) Include:
Competitive Wages & Family Benefits:

Competitive wages
Parental leave (4 weeks paid)
Housing programs
Childcare reimbursement

Comprehensive Health Benefits:
Educational Programs:

Tuition Assistance
Existing Student Loan Repayment
Specialty Certification Reimbursement
Annual Supplemental Educational Funds

Paid Time Off:

Up to five weeks in your first year of employment and continues to grow each year.

Retirement & Supplemental Insurance:

403(b) Retirement plan with immediate matching
Life insurance
Short and long-term disability

Recreation Benefits, Wellness & More:

Up to $1,000 annual wellbeing reimbursement
Recreation discounts
Pet insurance
PRN (POOL) benefits include: Wellbeing reimbursement funds and 403(b) contribution eligibility
Apply Now